TUPELO • Voters within the Lee County School District approved a $15 million bond issue on Tuesday.
A total of 1,335 ballots were cast on Tuesday. With all 30 precincts reporting, 1,214 voted for and 121 voted against. That's 91% to 9%. A 60% margin was required to pass.
Lee County superintendent Coke Magee said he's ecstatic about the support voters have shown for the district.
"I can't thank the voters of Lee County enough for providing this opportunity for our students," Magee said. "I appreciate the school board, administrators at all of our campuses, our teachers and our communities for so overwhelmingly supporting this opportunity."
$9.5 million of money made from the bond issue will fund the construction of a new Lee County career and technical education center which was first unveiled less than two months ago during the LCSD board of trustees meeting on Nov. 18. William Dexter of the PryorMorrow architecture firm presented designs and blueprints for the facility during a public interest meeting a month later.
The 33,000 square foot facility is expected to accommodate 140 to 180 students at a time. It will include five classrooms and four shop areas with classrooms, along with restrooms, a conference room and two collaborations spaces for events like job fairs and mock interviews.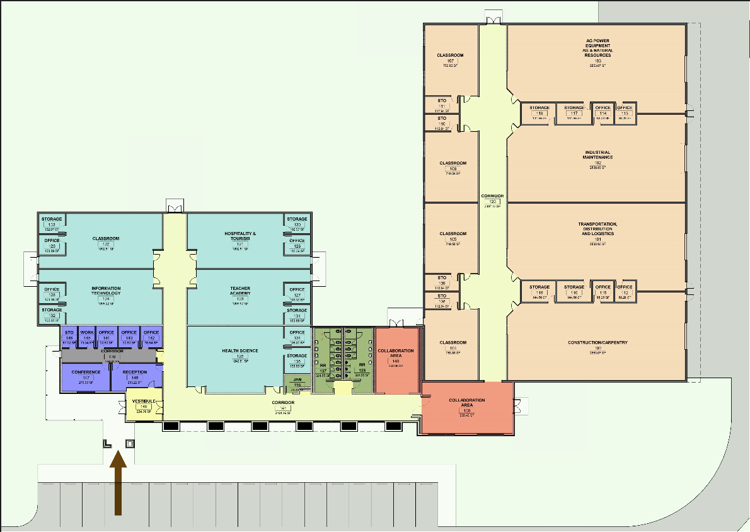 The technical center will be built at the Community Development Foundation's new industrial park called the Hive where Lee County Schools owns 20.62 acres of land. It will be a near-equal distance from each of LCSD's three high schools: 16 miles from Saltillo High School, 19 miles from Mooreville and 12 miles from Shannon. Travel times from the schools to the center will be between 16 and 21 minutes each.
Parking spaces for up to 140 vehicles and buses will be provided, with buses transporting students to and from the facility throughout the day.
Construction should begin in late spring with a goal of having the center completed by fall 2021.
There are eight proposed pathway programs for students to choose from. Four will be classroom based: health science, teacher academy, information technology and hospitality and tourism. The other four will be shop based: construction/carpentry; transportation, distribution and logistics; industrial maintenance and ag power equipment/ag and natural resources.
$2 million of the bond issue funds will be used to implement security upgrades across the district. Earlier this year, LCSD placed school resource officers at each campus in the district and installed new door lock and camera systems as part of that plan.
Lee County Schools determined that any remaining funds from the bond issue – which are currently estimated to be $3.5 million barring increases in project costs, etc. – will be used for district-wide infrastructure improvements.
"It's something that's going to have a long-lasting positive impact on the students in our county," Magee said on Tuesday night. "I can't wait to get to work."