OXFORD • David Swider had been working at Square Books in Oxford for about five years when he first considered opening his own record shop. While paperbacks were fine, his real passion was vinyl.
On March 1, 2012, Swider opened The End of All Music. Now, nearly a decade later, he's opened a second location in Jackson.
Located in the Fondren neighborhood at 3011 North State Street, the 1,400 sq. ft. store offers the same vast array of genres, new and used, that customers are used to seeing in Oxford, Swider said.
One thing unique to the Jackson location is the option to enjoy a "browsing beer" while looking through bins of vinyl records.
The store obtained a beer permit and wholesale beer license, taking every necessary step to allow music lovers to buy a beer and flip through records. There are even drink holders on the sides of record bins.
The End of All Music's newest iteration is a partnership with Fat Possum label manager Patrick Addison. He's one of Swider's close friends and was the first to suggest he open the original store.
Swider and Addison had discussed opening a second for years prior to the COVID-19 pandemic and even considered faraway locations like New York City, Santa Fe or Chattanooga. But, eventually, they opted to expand their brand in Mississippi … just further south.
They began moving forward with their plans to open their new location in the state's capital city about six months ago.
Hayden Boyd, a Flowood native, has been hired to manage the Jackson store, but Swider will continue to do all of the buying for both shops, and his role in Oxford will remain the same.
The End of All Music in Jackson is a Mississippi shop through and through, a point of pride for Swider. All of the work done to and for the store was done by Mississippians — electrical work, artwork hanging on the walls, record bins, t-shirts and signage inside and out.
"Just about everything was made in Mississippi, which makes me really happy, to keep it all in the state," Swider said.
'The kind of town that needs a good record store'
Prior to opening The End of All Music, Swider traveled all over the state, and to other states, seeking out record stores. He'd often visit Goner Records and Shangri-La Records in Memphis, and former Oxford record stores like Uncle Buck's and Hotdog Records, which were influential as Swider decided what he wanted his record store to be.
"There wasn't a record store in Oxford from 2006 to 2012," Swider said. "I think it's a no brainer that Oxford's the kind of town that needs a good record store."
When The End of All Music first opened in 2012, the "vinyl renaissance" hadn't kicked off and new records weren't being pressed like they are these days, so the store's bread and butter was used records.
"When we opened, we had about 10,000 records of used stuff," Swider said. "We just kind of poured through that and separated the good from the bad and that was how we curated the shop at first."
As vinyl's popularity increased and more new records became available, he had the opportunities to stock more interesting and exciting records.
Being so closely associated with Fat Possum Records from the beginning, The End of All Music stocks lots of their records and merch, serving as the label's unofficial store.
In fact, the record store owes its name to a Fat Possum Records artist, the late hill country blues legend Junior Kimbrough, whose gravestone is inscribed with a quote from fellow musician Charlie Feathers: "Junior Kimbrough is the beginning and end of all music."
When the right location opened up in 2017, the store moved from its original location to a 1,200 sq. ft. upstairs location on the Oxford Square.
After reopening Jan. 2018 at 103A Courthouse Square, the business benefited from increased foot traffic.
"We're right in the middle of everything," Swider said. "North Lamar was great. It served its purpose really well. It was a destination record store, and now, I think we're not only a destination record store, but more people stumble upon us."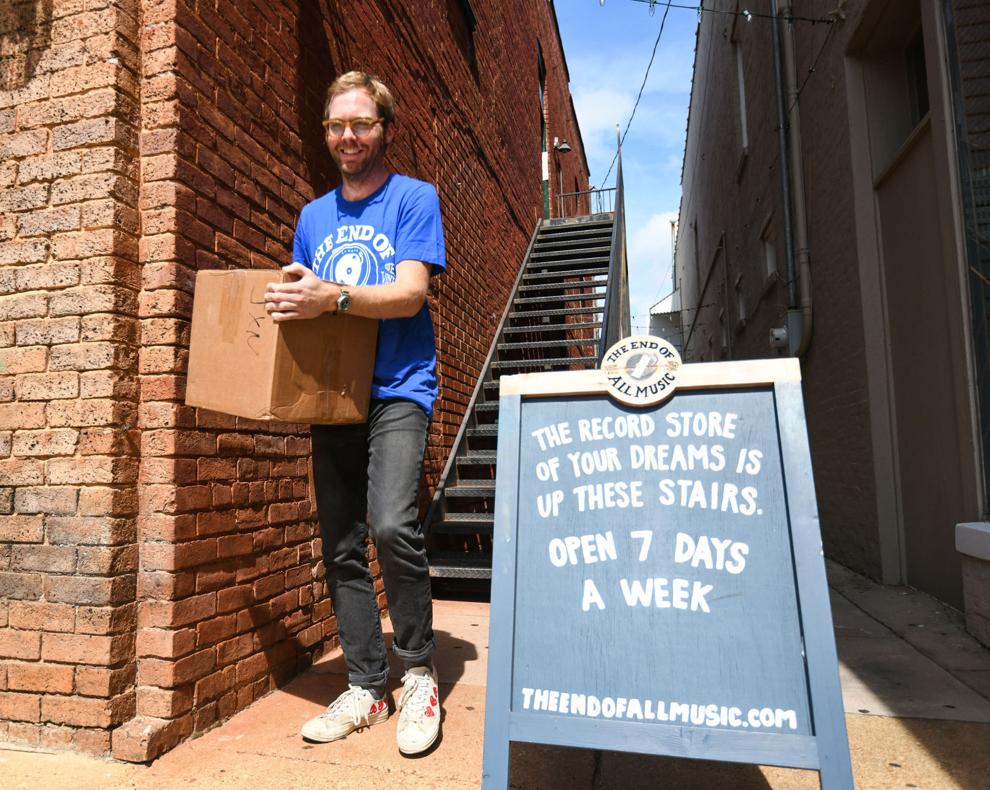 Pandemic sales and what sets the EOAM apart
During the pandemic, as small businesses nationwide have been forced to close temporarily or even permanently, The End of All Music has survived.
The biggest factor in the store's success during the period of business shutdowns and at-home quarantine, Swider thinks, is that people in Oxford and around the country who are fans of the record store wanted The End Of All Music to make it.
Local support was huge, and online sales were great. The store has shipped records to all 50 states during the pandemic.
Another success factor, Swider said, was homebound people have more free time to listen to records.
"I certainly listened to more music that I ever have in my whole life, and I own the place," Swider said. "So I think a lot of people were on their computers, internet shopping, and when they weren't doing that they were trying to get off the internet. And a good way to do that is listen to your records."
While sales didn't increase during the pandemic, online sales helped make up for sales lost during the few months the physical store was closed. Overhead costs were down, and the record store wasn't buying lots of new stock. Overall, The End of All Music had a decent year, Swider said.
Since the beginning, Swider knew that if he opened a record store, he wanted to do it right. There are thousands of great record stores in the country, and he's been to a bunch of them. He's seen good and bad record stores. In 2012, he vowed The End of All Music would be one of the best.
"I had this record store in my mind that I wanted us to be," Swider said. "And through all of the iterations of it, including the Jackson store, I'm getting closer to it."