TUPELO – Kool Smiles has changed its name to Sunnybrook Dentistry in Mississippi while trying to mask its connections to the embattled national family dental clinic corporation.
In Tupelo, the Sunnybrook dental clinic is in the same location as Kool Smiles was formerly located and has the same providers, dentists Drs. David Moore and Victoria Graham. Nationally, Kool Smiles and its Georgia-based Benevis parent company have been the subject of investigation after a child died under anesthesia at a Kool Smiles in Arizona and the company settled a federal Medicaid fraud lawsuit for $23.9 million.
A March press release sent to the Daily Journal by a public relations firm made no mention of the clinic's connection to Kool Smiles. The public relations firm also misrepresented Graham's credentials, saying she was a pediatric dentist, a specialization that requires additional training beyond dental school to achieve. Mississippi Board of Dental Examiners records say she is licensed as a general dentist.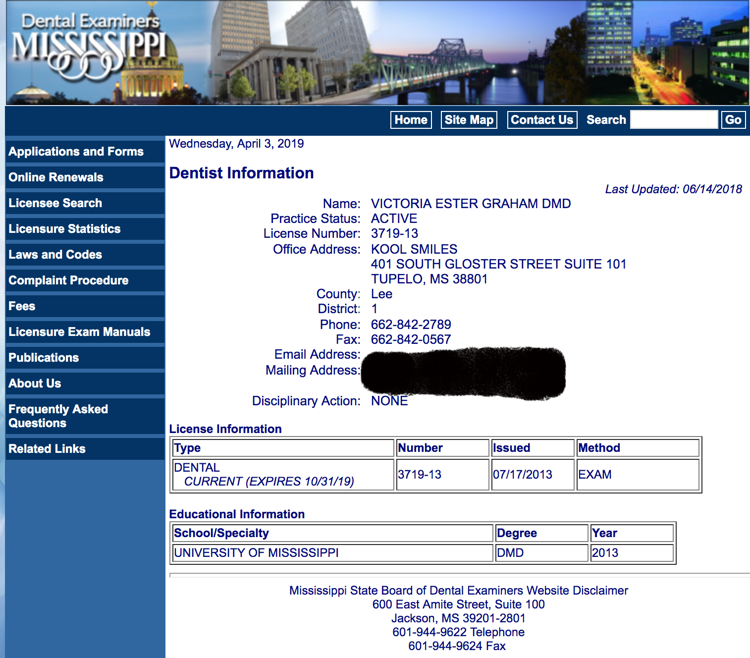 Dental board executive director Chris Hutchinson confirmed Kool Smiles locations in Biloxi and Hattiesburg had name changes coming on the board's agenda. 
Records filed March 26 with the Mississippi Secretary of State's office show that KS2 MS, which was among the Kool Smiles companies cited in the federal lawsuit, changed its name to Hattiesburg Road Dental but is doing business as Sunnybrook Dentistry and Braces.
Georgia dentist Dale Mayfield, the chief executive officer for Kool Smiles, is listed as the incorporator, president and director of the Hattiesburg Road Dental clinic and Sunnybrook. The paperwork includes an email address for Kool Smiles parent company Benevis.
A Sunnybrook website lists the former addresses of Kool Smiles clinics in Mississippi and Arkansas as its current clinics. The dentists located at those clinics are also associated with Kool Smiles.
No one from the public relations firm or Kool Smiles responded to Daily Journal requests for information about the name change.
In 2013, a federal false claims was filed against Kool Smiles. The company was accused of fraud in eight states including Georgia and Louisiana, by upcoding dental work and performing unnecessary work for Medicaid patients. Reporting by the Atlanta Journal-Constitution described root canals on baby teeth without proper anesthesia, while keeping parents out of the room to keep hidden the child's suffering. Dentists were encouraged to restrain reluctant patients with papoose boards, where they're wrapped in a cocoon-like fabric.
In December 2017, a 2-year-old boy died after being placed under anesthesia at a Yuma, Arizona Kool Smiles.
Mayfield, who had been appointed to the Georgia Board of Dentistry in 2016, resigned from the board under pressure in January 2018 after Kool Smiles settled the Medicaid lawsuit for $23.9 million without admission of guilt.
The federal false claims complaint was filed in 2013. Mayfield was appointed to the Georgia Board of Dentistry in 2016 and forced off the board after the federal settlement in early 2018, just as the news of the child's death was making national news.