TUPELO • Tupelo triplets Augusta, Chris and Sylvester Bradley were born just minutes apart. Five decades later, they're still as close as ever.
For most of her pregnancy, the triplets' mother, Fannie Jean Westmoreland, thought she'd be giving birth to a single baby, according to Dorothy Goins, the Bradleys' aunt. But about two weeks before her due date, doctors discovered she was expecting triplets.
When they were born on Nov. 17, 1971, the identical triplets were only the second set to be delivered at North Mississippi Medical Center.
Now, 50 years later, the brothers are still living life, having a blast, and doing what they love times three.
"We probably wouldn't have made it this far if it wouldn't have been for God and our family being there to support us from day one," Chris Bradley said. "Our aunties and our dad's people, everybody pitched in to help out — especially raising three at one time."
150 years of shared experience
There was a time when all three men worked at the very hospital in which they were born. They even wore the same uniform.
These days, the Bradley brothers rarely dress the same, other than for special occasions … for instance, their 50th birthday celebration in late November.
The Bradleys enjoyed a nice celebration at their church with a family dinner the evening of Nov. 20, featuring each of the brothers' favorite foods — Augusta likes blueberry crunch cake, Chris enjoys chicken and Sylvester is a fan of "sweet stuff" like desserts and candy.
At 50, the brothers have 150 years of shared life experience among the three of them.
Augusta Bradley still works at the NMMC and at Leggett & Platt; Chris Bradley transports patients in the emergency room at NMMC and also works at Marvin's; and Sylvester Bradley now works at Tupelo Public School District's Early Childhood Education Center as a custodian.
While they had their shares of challenges growing up, the consensus among the trio was that growing up as one of three was mostly fun.
"I enjoyed it," Augusta Bradley said before turning to his brothers and asking, "Did you enjoy it?"
"Might as well," Sylvester Bradley answered with a laugh.
Throughout their high school careers, the brothers dressed the same, making it easy for mix-ups to occur.
What might seem annoying was actually advantageous to the boys, who would swap classes and take tests for one another, depending on who among them was strongest in a particular subject.
Their triple-team test taking strategy was used "a lot," according to Chris Bradley.
When asked what subjects they were good at, Augusta Bradley replied, "I was good in math."
"I was good in cheating," Chris Bradley said without hesitation.
"I basically just was there," Sylvester Bradley added.
People still mix them up every day, Augusta Bradley said. More often than not, they don't even correct the person with whom they're speaking.
Even as children, they leaned into being three of a kind and didn't try hard to set themselves apart from each other.
"I think we just accepted being triplets and just went with that," Chris Bradley said.
Still as close as ever
The Bradley triplets graduated from Tupelo High School, where all three took part in track and band — Augusta Bradley played trumpet, Chris Bradley played saxophone and Sylvester Bradley took on the drums.
All three still use their musical talents during worship services at the Shammah Church of God in Christ, where they've been members for 28 years.
Augusta Bradley continues to play trumpet and Sylvester Bradley has stuck with the drums, but Chris Bradley now plays the synthesizer.
In addition to those roles, Sylvester Bradley has served as a minister and Augusta Bradley is a videographer.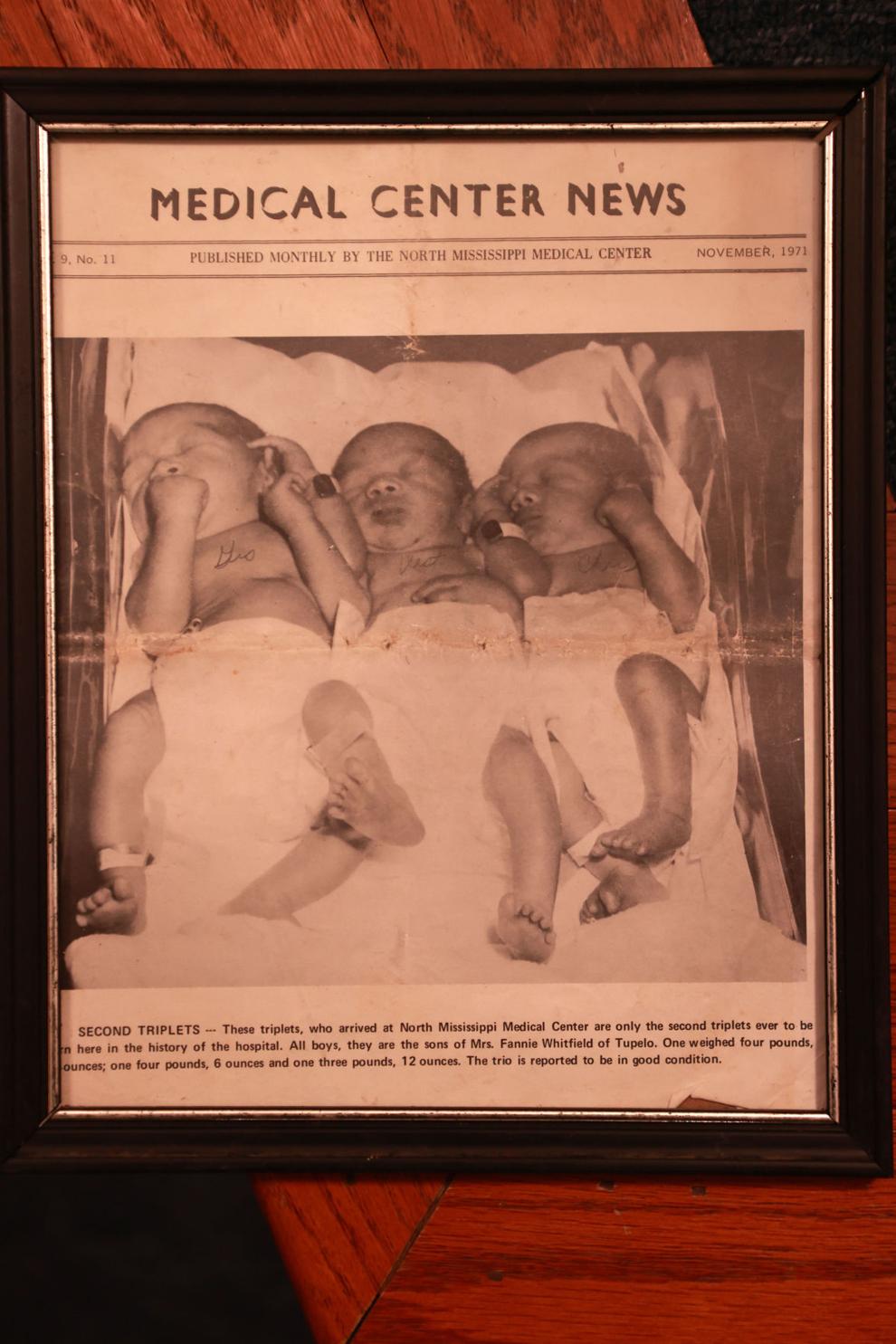 Despite spending 50 years of life together, the brothers haven't grown tired of each another yet.
Augusta Bradley lives in Shannon, and the other two brothers live in Tupelo, but they all talk on the phone every single day — sometimes one-to-one, other times on a three-way call.
The brothers also see each other on average twice per week, but they're together on Sundays without fail.
Sylvester Bradley said he and his brothers "just thank God for seeing 50."
"(We) still can move and do basically what we love to do," he said.
That too, perhaps unsurprisingly, comes in a set of three:
"Come to church, go to work and have fun in life," Sylvester Bradley said.