TUPELO • In October 2018, Leslie Geoghegan went to see her medical provider, Malinda Ingram, for an annual wellness visit.
"She asked if I'd had my mammogram yet, and I told her I was skipping this year, since I didn't have a history of breast cancer in my family," Geoghegan said. "And Malinda said, 'Nope, I'm making you an appointment right now.'"
Geoghegan, 62, got the mammogram and was watching the mammographer look at the images on a screen.
"I saw something, briefly, and I told the tech, 'You know, you need to clean that screen. There's some kind of spot on it,'" Geoghegan said. "I didn't think a thing about it when she said she needed to get a few more views."
The tech sent the images to a specialist at the Breast Care Center in Tupelo, who determined a further look was needed with an ultrasound.
"She said it was probably nothing," Geoghegan said. "I had no concern. I figured it was a little blip. I didn't know there was anything to worry about."
The guided ultrasound led to a biopsy. Still, Geoghegan wasn't worried.
"It was Malinda, and she said, 'Do not panic. Pick up your purse and go straight to the surgery center,'" Geoghegan said.
The results from her biopsy, Ingram told her, showed some sort of breast cancer.
When Geoghegan got to the surgery center, Dr. David Gilliland was waiting for her.
"It was just so much information coming at you so fast," Geoghegan said "What I picked up from it was that I had triple-negative breast cancer, a very aggressive form of cancer that's usually not found until Stage 3 or 4. Thanks to Malinda, mine was found in Stage 1, which is rare."
Geoghegan remembers being told that triple-negative breast cancer has a 33% chance of returning within three years after treatment. The odds drop slightly between the third and fifth year, and after that the chance of recurrence drops dramatically.
"Dr. Gilliland asked if I wanted a lumpectomy or a mastectomy and I said, 'I don't know, this is my first rodeo,'" Geoghegan said. "I trusted him to make the right decision and ended up having a lumpectomy on my left breast."
Two weeks after her lumpectomy, she had the first of four rounds of chemotherapy.
"The nausea hit, the pain hit, but it wasn't unbearable," Geoghegan said. "I thought, 'I can do this.' And then I went for my second round and got home and thought, 'Well, this isn't fun.'"
Two weeks later, it was time for the third round, and Geoghegan decided she wasn't going back.
"But I knew I had to and that I was blessed to be getting treatment," she said. "So I went to the third one, knowing what was ahead. When I went for the fourth one, if it hadn't been my last one, I don't think I could have done it. I don't know how these women do it, the ones who have to have 20 rounds."
In case you missed it: our Breast Cancer Survivors series from 2020
Pink hair
Between the second and third rounds of chemo, Geoghegan began losing her hair.
To hear her tell it, she didn't mind.
"That was just one less thing I had to worry about," she said. "I didn't have to wash my hair, didn't have to dry it or style it."
She went shopping for a wig, but every one she put on looked fake. She tried several, but knew they weren't right for her.
Then she spotted a short, bright pink wig. In an instant, she knew she had found her new hair.
"I mean, you're not fooling anybody," Geoghegan said. "You're puffy. You're yellow. People know you're a cancer patient."
Geoghegan later went on to add two more pink wigs to her wardrobe — a long dark pink one with bangs and a lighter pink wispy one.
"I wore them when I went out, when I went to church, but I couldn't wear them to work," said Geoghegan, who has been a graphic designer in the North Mississippi Medical Center's marketing department for 40 years.
For work, she wore chemo caps, but they were anything but ordinary. She'd attach broaches or crocheted flowers to them, or coordinate them to match her day's outfit.
"Mama taught us growing up that you can either choose to be happy or choose to be miserable," Geoghegan said. "I chose to be happy. Humor got me through this."
Geoghegan is the daughter of the late Phyllis Hawkins Harper, who was a longtime writer and columnist for the Daily Journal.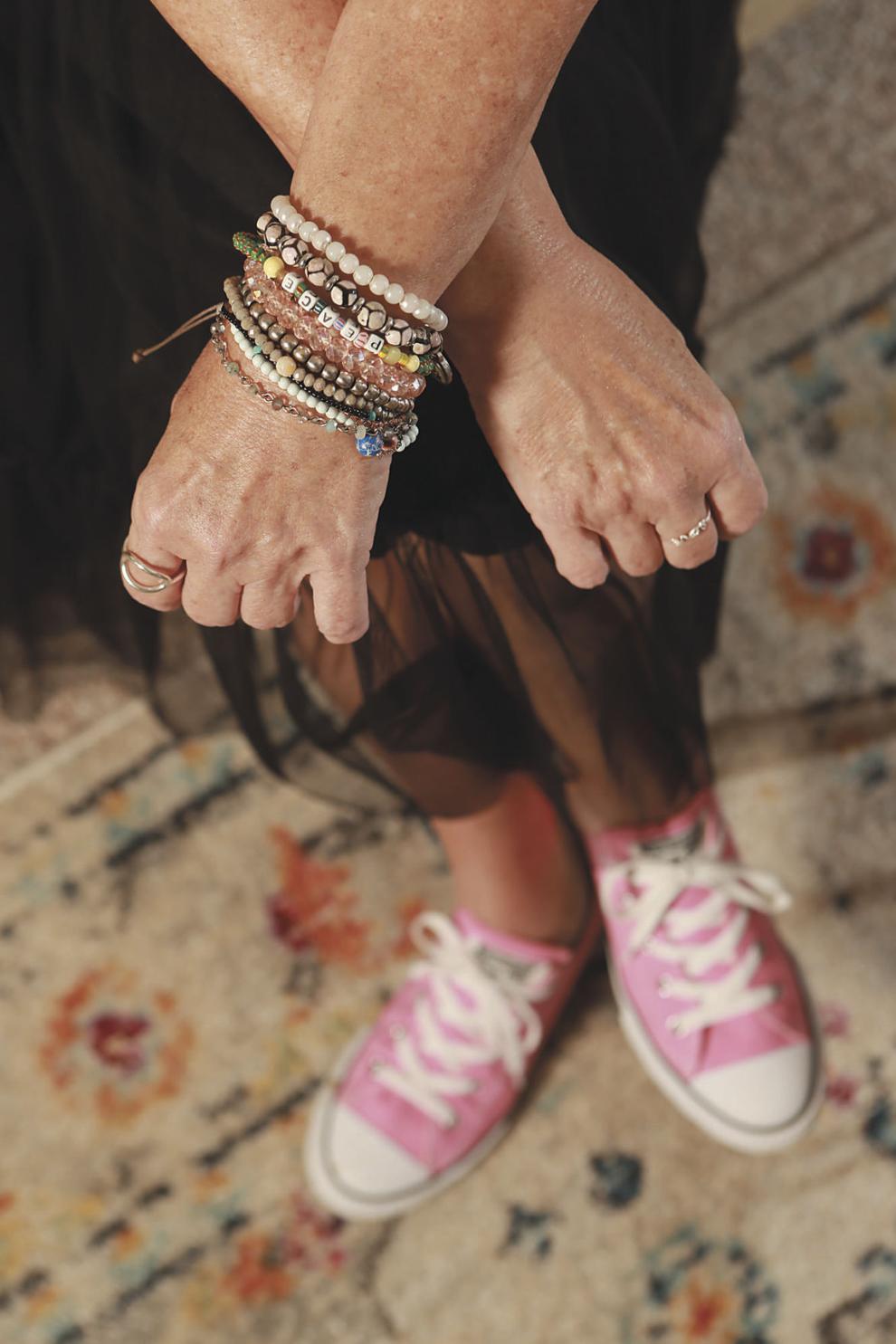 After the four chemotherapy treatments, Geoghegan was given a week to heal before she started 20 radiation treatments.
"Here's the one thing that saved my mind," Geoghegan said. "At radiation, they mark your breast and keep remarking you where the treatment is located. I took a Sharpie pen and drew tic-tac-toe games and wrote bad poems and left messages for the rad tech. After the 19th treatment, I got some stick-on jewels and wrote 'Last treatment!' for the tech. It helped me. It gave me some control, too."
Geoghegan said she tried to stay positive during all her treatments, but freely admits she had her share of pity parties along the way.
"I felt so sorry for my son, and my sisters and my friends," she said. "They were so sad for me going through this, but I felt so bad, I didn't care. It's so much harder on everybody else than it is on you. You're so wrapped up in the treatment and pain. It never hit me how hard it was on them."
But even in her darkest hours, there were bright spots.
"Breast cancer is like going to your own funeral, but you don't have to die," Geoghegan said. "The love people show to you – people bring you food. I can't count the number of gifts that showed up, and always when I needed it. I would get thoughtful gifts like coloring books, Nutella – which is very important in my life – inspirational bracelets, a handmade lap blanket, pink flamingo necklaces, T-shirts, shoes. When you're a divorced single mama, sometimes you think you're invisible. And I wasn't."
Oct. 24 marks the third anniversary of Geoghegan's cancer diagnosis and, so far, her regular mammograms and scans have been good. The cancer hasn't gotten any better, but it hasn't gotten any worse. She'll see her doctor again in November to see where she stands.
And she'll deal with whatever hand she's dealt, with her characteristic positive attitude and humor.
"The cancer is either going to come back, or it's not," she said. "I can live in dread of my next mammogram, or I can live until that day and deal with whatever happens then. Growing up, Phyllis always said you can't give up until you can find the give-up office. I haven't found it yet, but I've looked for it."