TUPELO • In a racist comment discovered through a public records request, Lee County Sheriff Jim Johnson described a local legislator as "worse than a black person" in a text message.
In a series of messages Johnson sent Lee County District 1 Supervisor Phil Morgan in August 2017, Johnson complained about Tupelo state Rep. Shane Aguirre's involvement in then-current debates about Lee County's jail.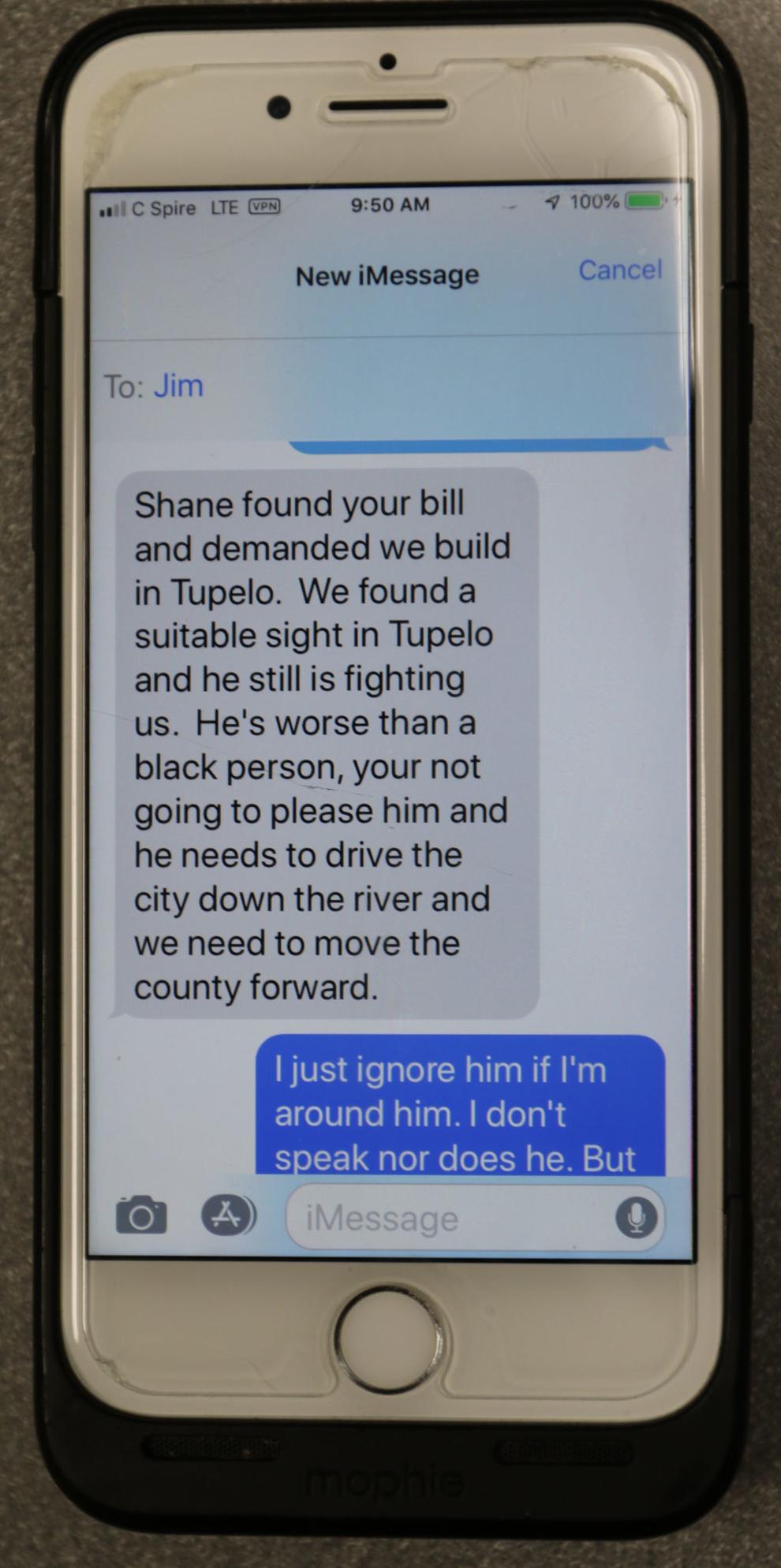 Johnson wrote the following words about Aguirre, reproduced here exactly as written: "He's worse than a black person, your not going to please him."
Johnson and Morgan are white. Aguirre is of Hispanic descent.
In a recent interview with the Daily Journal, the sheriff sought to explain his remark about black people by pointing to Aguirre's stance on jail legislation. Aguirre, a first-term Republican representative, had opposed a bill that would have allowed the construction of a county jail outside Tupelo.
"I was aggravated at him," Johnson said of Aguirre.
The sheriff did not outright repudiate his remarks, but he did express some regret.
"There was probably no call for mentioning anything of race," Johnson said.
The Daily Journal asked Johnson if he believes the racist idea that black people are difficult to please.
Johnson was evasive in his response.
"I think when you play the race card, yes, it's difficult to please some people," Johnson said.
Johnson insisted that he does not hold racist or prejudiced beliefs.
"God made us all the same," Johnson said. "I don't treat anybody any different."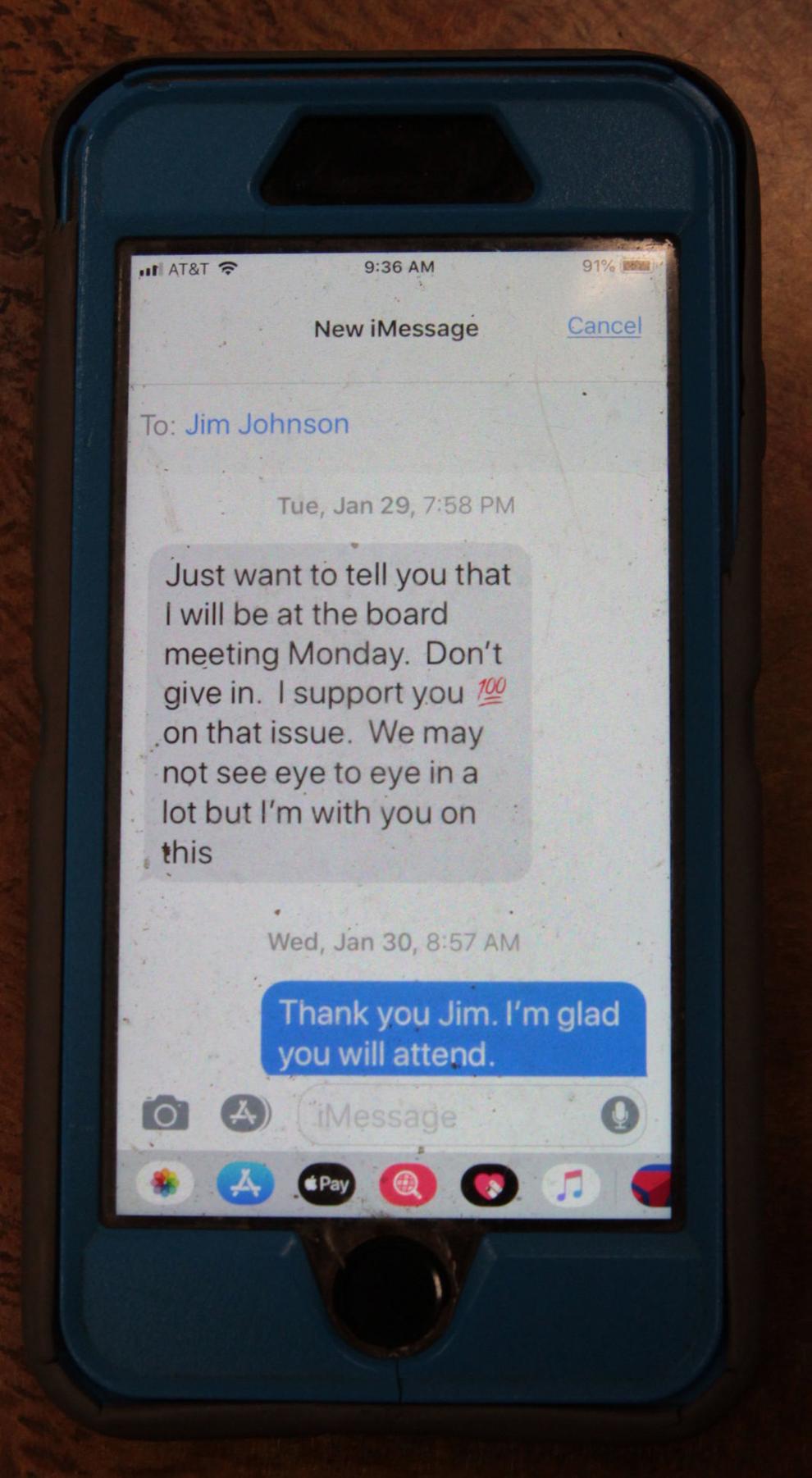 In more recent text messages obtained by the Daily Journal through a public records request, Johnson praised District 2 Supervisor Mike Smith after Smith publicly attacked the practice of black elected officials forming caucus organizations. Smith singled out the state's minority supervisors' caucus for criticism and tried to block Lee County's lone black supervisor from attending on the public's dime.
In text messages to Smith in late January and early February of this year, Johnson praised the District 2 supervisor and urged him not to apologize.
"Don't give in," Johnson wrote. "I support you."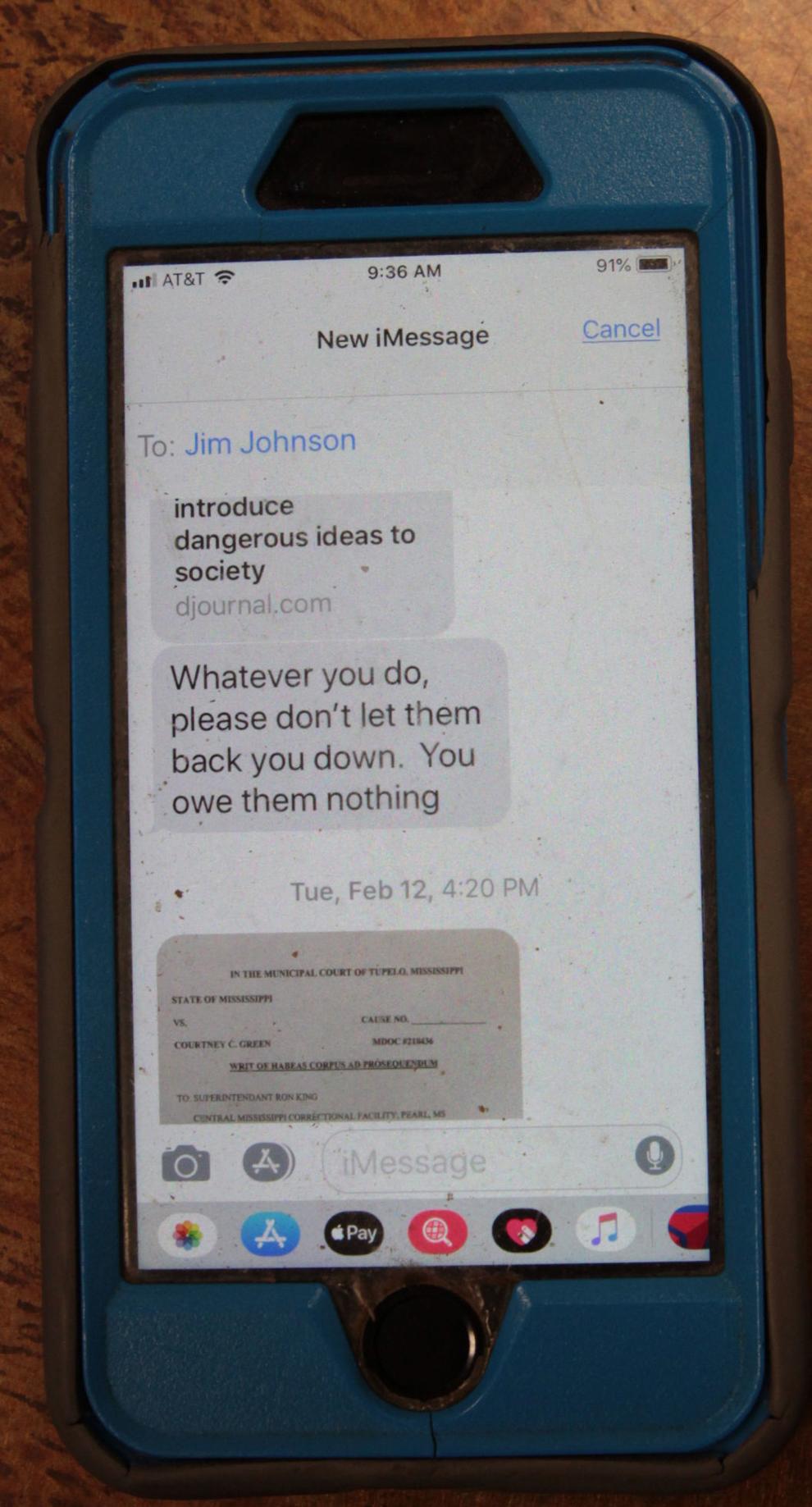 Later, Johnson wrote: "Whatever you do, please don't let them back you down. You owe them nothing."
Smith did eventually apologize for what he called "rude remarks." He offered this apology in conjunction with remarks by the head of the local NAACP.
After the apology, Johnson texted Morgan. Morgan told Johnson Smith's apology wasn't surprising. Morgan had sided against Smith and in favor of Lee County's only black supervisor on the issue at hand.
Johnson's verdict on the apology by Smith was blunt: "Sickening."
In an interview with the Daily Journal, Johnson said he thinks race-based organizations like the black supervisors' caucus "take us back" to a "race-based mindset."
The Daily Journal asked Johnson whether he views the mission and activities of the NAACP as legitimate. Johnson would not directly answer the question.
"I think the NAACP is an organization that is trying to stand up for a group of people," Johnson said. "I don't know enough about it, because I don't attend. I'm not a member."
In another text message, Johnson linked the county's only black-majority supervisor district with crime. Tommie Lee Ivy represents that district.
Johnson also describes himself as a "racist" in what may have been meant as a sarcastic joke.
In a September 2018 message, Johnson wrote the following to Morgan, exactly as follows: "We had a fatal shooting last night with a Black Motorcycle group in Tommie Lee District. Looks like his district is promoting another group and you can bet there will be trouble. I'm the racist one. This s- – is ridiculous."
Referring again to Ivy's district, Johnson also said "this is what we deal with every day in that end of the county."
Johnson then complained about criticisms by Ivy directed toward the sheriff's office.
In the course of a recent interview with the Daily Journal, Johnson also said the text message about Aguirre emerged from tensions not only with Aguirre. Johnson said he was at the time also frustrated by the ongoing controversy around the 2016 shooting death of local man Antwun "Ronnie" Shumpert at the hands of a Tupelo police officer.
Shumpert, who was black, fled a traffic stop and shortly thereafter was fatally shot by a white Tupelo police officer, Tyler Cook. Cook said he shot Shumpert in self-defense during a physical altercation.
Local outcry – largely from the black community – followed. This outcry centered around Shumpert's death and around claims of racial profiling and other allegations of abusive policing practices in Tupelo.
Lee County's deputies were not involved in the shooting death of Shumpert, but Johnson apparently grew weary of the protests and controversy that followed.
"This city and county were so bombarded by demands, you were bombarded by a group of people who were never going to accept the outcome of any investigation," Johnson said.
In a statement to the Daily Journal, Morgan distanced himself from the sentiments Johnson voiced in text messages exchanged between the two men.
Morgan specifically disavowed any negative comments about Ivy, the county's only black supervisor, and touted his record of working across partisan and racial lines during his political career.
In a written statement, Morgan said, "The sheriff sent me these messages unprompted, I presume, in an attempt to sway my view on these issues. Though we come from different parties, Tommie Lee Ivy and I have worked on numerous issues over the years and I consider him a close friend. The entire county has benefited from his dedication to public service and I would never condone derogatory remarks directed at him."
The Daily Journal discovered these and other text messages through public records reporting. Each county supervisor and the sheriff use a county-owned phone. The Daily Journal asked each supervisor to make available certain text messages, including messages involving the sheriff.
Morgan, of District 1, had extensive text messages found by the Daily Journal in response to a public records request.
Smith, of District 2, had text messages dating back to November of last year.
Tony Roper, of District 3, only had text messages with the sheriff dating back a few months, with nothing of note among the messages.
Ivy, of District 4, said he had no text messages with the sheriff.
Billy Joe Holland, of District 5, also said he had no text messages with the sheriff.