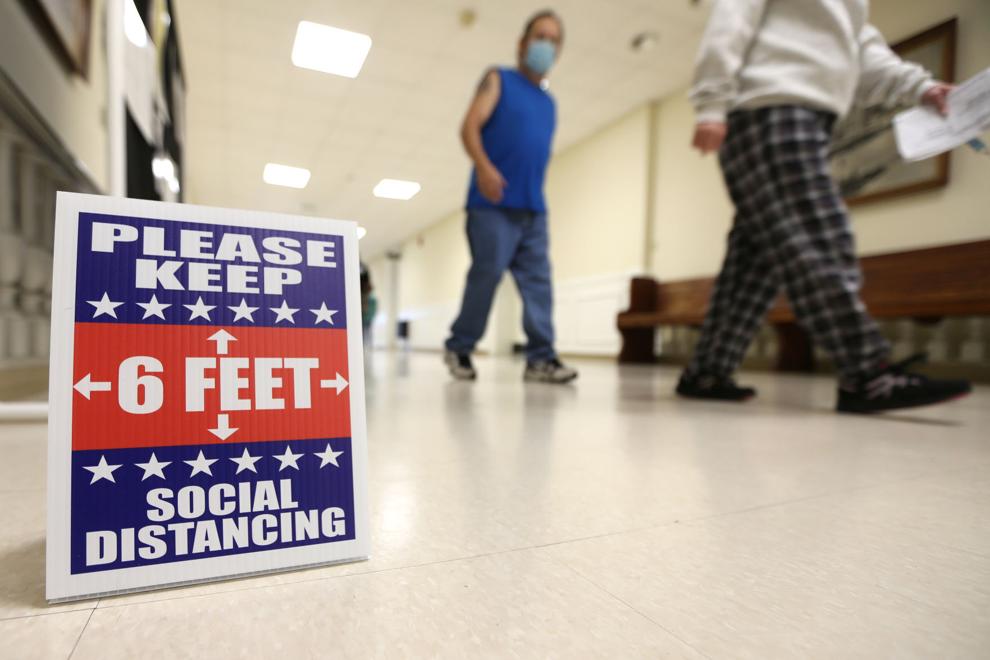 TUPELO • With less than 40 days until a momentous, nationally charged Election Day, the local county officials largely tasked with tending the nation's balloting infrastructure are preoccupied with questions. Chief among them: How to keep in-person voting safe?
In a normal election cycle, more mundane questions might loom. But this election cycle is far from normal.
"This is something that's new to all of us," said Carl Patterson, the first district election commissioner for Lee County. 
This year's ballot will offer Mississippians the chance to make selections for president, congress and a raft of ballot initiatives involving the state's flag and the legal status of medical marijuana. 
These matters are weighty, and turnout will be high, but options to avoid long Election Day lines will be few. Mississippi lawmakers offered only a small expansion of the state's already limited absentee voting provisions. That means the vast majority of Mississippi voters will vote in-person on Nov. 3.
So what will Election Day look like?
The Daily Journal and its partner publications interviewed circuit clerks and other election officials in 15 counties in Northeast Mississippi to see what is being done to ensure that a high volume of absentee ballots can be processed and how people will be able to cast their vote safely without compromising federal and state health guidelines.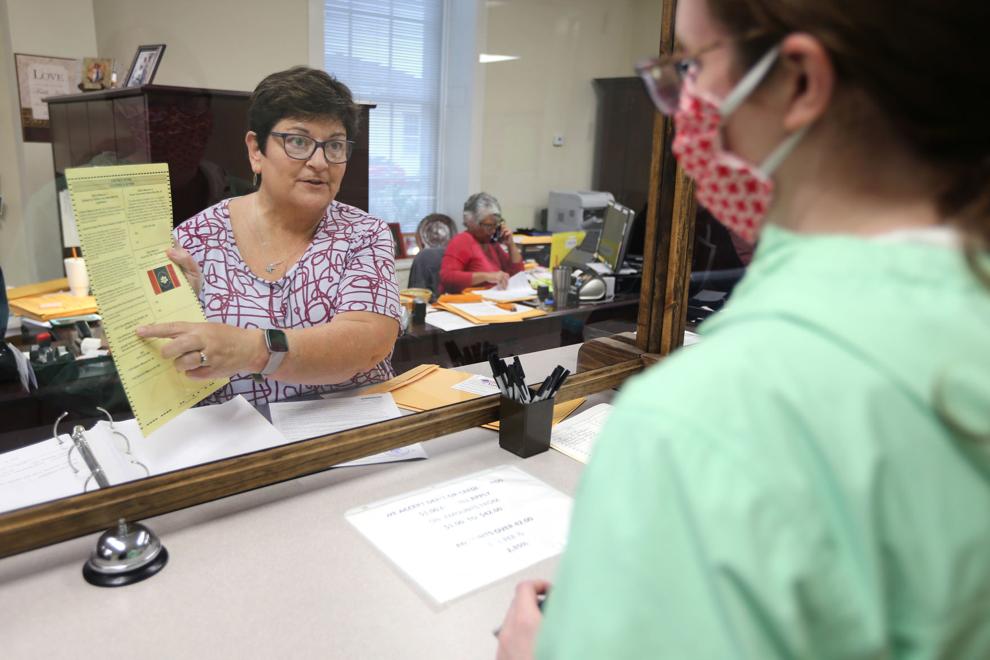 While the level of specificity of voting plans varied among counties, nearly every circuit clerk in Northeast Mississippi has a system in place to enforce social distancing, protect poll workers and keep surfaces clean.
In a normal election, voters either share pens to fill out poll books and mark ballots or touch a screen on voting machines. To mitigate the spread of COVID-19, upon advice from the Mississippi Secretary of State's Office, county officials have formulated plans to decrease the number of items that voters touch this election. 
When it comes to elections, Mississippi is a "bottom up" state, which means that elections are administered by the county. In Mississippi, some counties use electronic ballots and some use paper ballots. In counties that use paper ballots, circuit clerk said that they will give voters an individual pen to fill out the ballot and sign their name on the poll book. 
"The secretary of state's office is supplying us with pens," Marshall County Circuit Clerk Monet Autry said. "Voters will be able to take these pens with them. Just in case we run out, we have gloves as well."  
In counties like Monroe County that use electronic polling machines, circuit clerks said they will to give voters Q-tips or stylus pens to use. 
"We will be using Q-tips to actually touch the machines to make your selections," Monroe County Circuit Clerk Dana Sloan said. "Once you cast that ballot, you'll throw that Q-tip in the garbage. After each voter, we'll have someone cleaning the machines and cleaning the tables."
In Lee County, the highest populated county in Northeast Mississippi, voters sign their name on electronic poll books, but fill out paper ballots to cast their vote. 
"When you go in, the poll workers look at your name on the (electronic) poll book, and they'll have to turn it around for you to sign with your finger," Lee County Circuit Clerk Camille Roberts Dulaney said. "You can't wear gloves, so we're going to try to use Q-tips."
All counties in the region also plan to distribute personal protective equipment, such as masks and face shields, to all of its poll managers and some plan to install sneeze guards for an extra layer of protection to poll workers. 
"We will of course have plexiglass in front of the tables where the people come up to the poll workers, and of course the poll workers will have masks," Clay County Circuit Clerk Kim Brown Hood said. "We will have hand sanitizer throughout."
Even though all counties plan to hand out protective equipment to all poll workers and have hand sanitizer for voters, Lee County has not yet received its materials from the Secretary of State's Office and does not know how it will divide the supplies. 
At a recent Lee County Election Commission meeting, the election officials were certain that that personal protective equipment was en route to the county, but they were still not sure what the best way is to parse out the supplies to make sure that one precinct does not receive too much and one doesn't receive too few items.
When poll managers pick up ballots for polling precincts, they typically carry them and some other supplies in large bins. Some commissioners suggested that putting the protective equipment in the bin along with the ballots, but the idea was quickly batted down.
"The only drawback there is you don't have room for 6,500 hundred pens, 6,500 'I voted' stickers, 20 face shields and 100 gloves," Deputy Circuit Clerk Dawn Coon said. "That's my problem."
Joe Hester, the election commissioner who represents the fifth district, joked that some poll workers just may need to come in pickup trucks to get all of the protective equipment and cleaning materials to distribute to voters.
"All I can tell y'all is get your old work jeans out and be prepared because it's going to be a lot of back breaking stuff," District 1 Commissioner Carl Patterson said to his colleagues at the September meeting.
While the officials are still working out the logistics of distributing the other supplies, the commission is fully confident that they will get them out to precincts.
Some counties had to deal with finding creative ways for voters to social distance inside inside smaller voting precincts. If an influx of voters occur at one time in a smaller building, it could make it harder for voters to socially distance. 
Jeff Busby, the Lafayette County circuit clerk, said that there are a few smaller precincts in his county he is concerned about, especially later in the evening, "but those precincts are generally smaller in number with voter turnout anyway." 
Shelia Landsell, the election commissioner who represents Lee County's second district, experienced the same problem at a few precincts inside of volunteer fire departments, but she said she was able to get the fire chiefs of the departments to move the fire trucks out to allow for people to socially distance. 
More people are expected to vote by absentee this election to avoid being among large crowds on Election Day. 
In Tishomingo  County, one of more rural and sparsely populated counties in the region, election officials are planning on an uptick in absentee ballots since they have a lot of voters who are above 65. Joshua McNatt, the county's circuit clerk, said he intends to have an hour and a half or two hour window he's asking only senior adults to come into the office to vote to give them an extra layer of protection.
Since poll managers are required to be at precincts from at least 7 a.m. to 7 p.m., most of them are retirees and senior adults. Since people 65 and older are at an increased risk of developing severe COVID-19 symptoms, most counties said they had at least some older poll workers who decided not to work this election, but they were able to replace them. 
By law, poll managers must undergo mandatory election training to work. Most circuit clerks said that they have enough poll managers to help with elections right now, but if some do not complete training, then they could experience shortages. 
Some counties are hiring additional poll workers to clean and disinfect precincts and enforce social distancing. 
"We want everybody to feel safe and be able to come in and vote and not have to worry about it," Alcorn County Circuit Clerk Crystal Starling said. "We have ample poll workers.
Voters cannot be turned away from a polling precinct if they refuse to wear a mask or don't comply with social distancing guidelines, even though compliance is recommended by officials. State health officials have maintained that in-person voting is safe as long as citizens adhere to health recommendations such as wearing a mask.
In Pontotoc County, Circuit Clerk Melinda Nowicki said that voters will be able to vote outside at a separate table if they do not want to risk voting next to others at the precinct.  
Dr. Thomas Dobbs, the state's chief health expert, at a press conference in July said he believes if Mississippians abide by precautions at polling places, then people should be safe and he encouraged "everyone to exercise their right to vote."
Liz Sharlot, the communications director for the Mississippi State Department of Health, this week in a statement said that it is still the opinion of the state health department and that in-person voting as safe as long as registered voters follow state and federal health guidelines.
"It is incredibly important to wear a mask and maintain social distance," Sharlot said. "We have worked with the Secretary of State's Office and it should have guidelines as well."
Teresa Blake, Regina Butler, Ray Van Dusen, Tina Campbell Meadows, Josh Mitchell and Robert Scott contributed to this report.