The Mississippi State Health Department on Wednesday reported 1,025 new COVID-19 cases and 18 deaths.
The number of patients with confirmed and suspected COVID-19 infections, patients in an ICU and patients on ventilators reached all-time highs on Tuesday.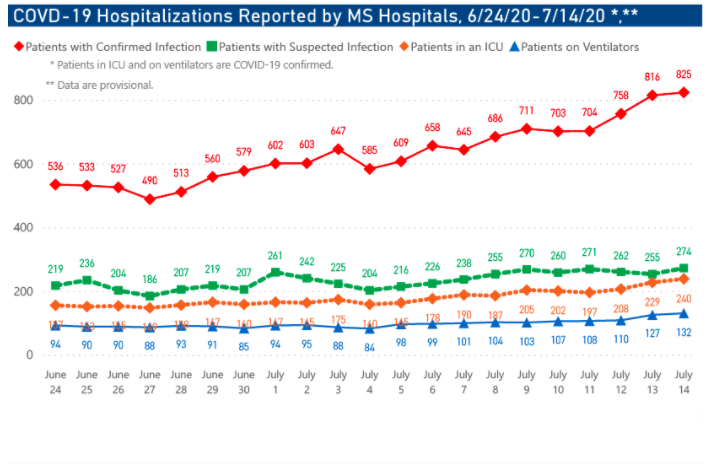 The statewide total of COVID-19 cases since March 11 now stands at 38,567 with 1,290 deaths as a result of the virus.
Of the 18 deaths reported Wednesday, seven occurred between July 7 and July 11 and were identified from death certificate reports.
25,932 patents are presumed to have recovered from the virus as of July 12.
North Mississippi Health Services reports 66 hospitalized patients on Wednesday, an increase of eight patients since Tuesday.
The following counties in Northeast Mississippi reported additional cases: Alcorn (10), Benton (9), Calhoun (11), Chickasaw (9), Clay (6), Itawamba (11), Lafayette (9), Lee (22), Marshall (3), Monroe (19), Oktibbeha (12), Pontotoc (16), Prentiss (5), Tippah (3), Tishomingo (14) and Union (8).
North Mississippi total case counts
Alcorn 123
Benton 58
Calhoun 187
Chickasaw 313
Clay 274
Itawamba 163
Lafayette 536
Lee 662
Marshall 310
Monroe 491
Oktibbeha 644
Pontotoc 406
Prentiss 134
Tippah 154
Tishomingo 125
Union 266