The Mississippi State Health Department on Monday reported 1,251 new COVID-19 cases, including 52 in Lee County. It is the largest single-day increase in COVID-19 cases thus far.
MSDH also reported three new deaths statewide, including one in Monroe County.
The statewide total of COVID-19 cases since March 11 now stands at 43,889 with 1,358 deaths as a result of the virus.
Patients with confirmed COVID-19 infection, patients in an ICU and patients on ventilators reach all-time highs on Sunday with 909 confirmed COVID-19 patients in Mississippi hospitals, 284 in ICUs and 143 on ventilators.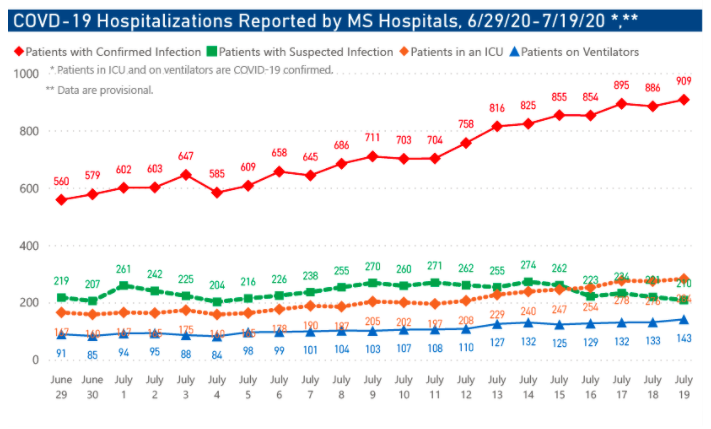 A total of 30,315 patents are presumed to have recovered from the virus as of July 19.
North Mississippi Health Services reported 70 hospitalized COVID-19 patients on Monday.
The following counties in Northeast Mississippi reported additional cases: Alcorn (13), Calhoun (8), Chickasaw (12), Clay (5), Itawamba (7), Lafayette (10), Lee (52), Marshall (9), Monroe (7), Oktibbeha (9), Pontotoc (17), Prentiss (14), Tippah (3), Tishomingo (10) and Union (2).
No change: Benton
North Mississippi total case counts:
Alcorn 161
Benton 77
Calhoun 249
Chickasaw 342
Clay 299
Itawamba 191
Lafayette 596
Lee 820
Marshall 384
Monroe 518
Oktibbeha 697
Pontotoc 495
Prentiss 192
Tippah 193
Tishomingo 165
Union 325