The Mississippi State Health Department on Wednesday reported 1,547 new COVID-19 cases and 34 deaths.
Itawamba, Lee, Marshall and Tishomingo counties in Northeast Mississippi each reported one new death.
Of the 34 deaths reported, six occurred between June 21 and July 8 and were identified through death certificate reports — including three deaths in Oktibbeha County.
The statewide total of COVID-19 cases since March 11 now stands at 47,071 with 1,423 deaths as a result of the virus.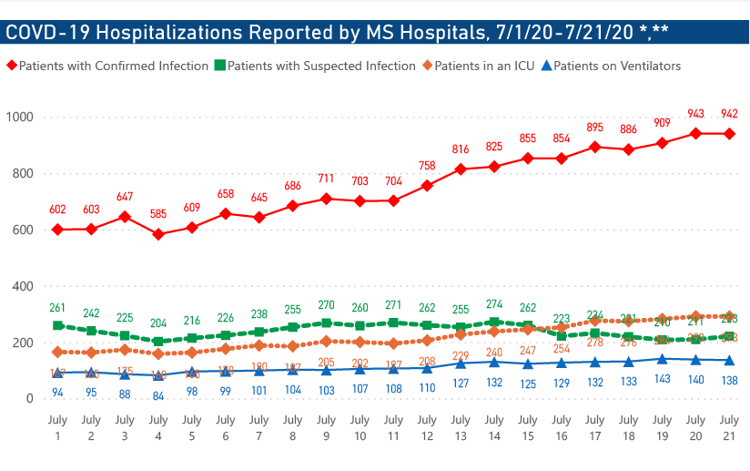 A total of 30,315 patents are presumed to have recovered from the virus as of July 19.
North Mississippi Health Services reported 72 hospitalized COVID-19 patients on Wednesday, five more than the previous day.
The following counties in Northeast Mississippi reported additional cases: Alcorn (11), Benton (4), Calhoun (33), Chickasaw (2), Clay (1), Itawamba (12), Lafayette (20), Lee (16), Marshall (15), Monroe (11), Oktibbeha (7), Pontotoc (5), Prentiss (16), Tippah (9), Tishomingo (6) and Union (15).
North Mississippi total case counts:
Alcorn 190
Benton 84
Calhoun 303
Chickasaw 350
Clay 310
Itawamba 220
Lafayette 633
Lee 879
Marshall 407
Monroe 536
Oktibbeha 712
Pontotoc 538
Prentiss 219
Tippah 212
Tishomingo 184
Union 353