The Mississippi State Health Department on Tuesday reported 1,635 new COVID-19 cases, which is the largest single-day increase in COVID-19 cases thus far. It's the third time in less than a week that a new record has been set for daily case totals.
MSDH also reported 31 new deaths statewide, including one each in Clay, Lee and Tishomingo counties. Five of the 31 deaths occurred between June 30 and July 12 and were identified through death certificate reports.
The statewide total of COVID-19 cases since March 11 now stands at 45,524 with 1,389 deaths as a result of the virus.
Patients with confirmed COVID-19 infection and patients in an ICU both reached all-time highs on Monday with 943 confirmed COVID-19 patients in Mississippi hospitals and 293 in ICUs, up from 909 and 284 respectively on the previous day.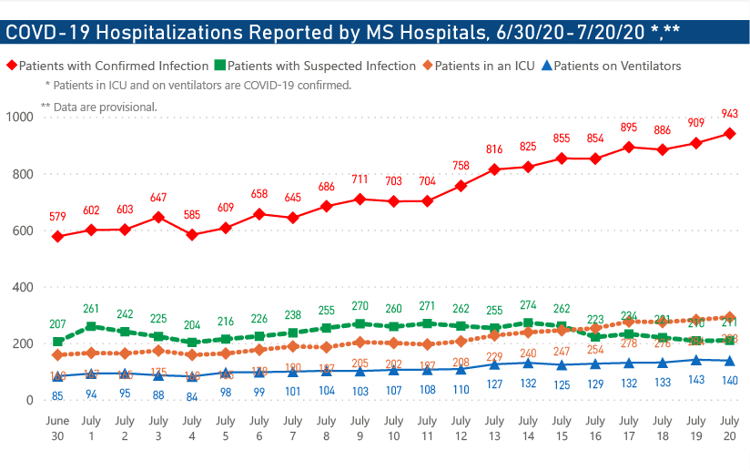 A total of 30,315 patents are presumed to have recovered from the virus as of July 19.
North Mississippi Health Services reported 67 hospitalized COVID-19 patients on Tuesday, three less than the previous day.
The following counties in Northeast Mississippi reported additional cases: Alcorn (18), Benton (3), Calhoun (21), Chickasaw (6), Clay (10), Itawamba (17), Lafayette (17), Lee (43), Marshall (8), Monroe (7), Oktibbeha (8), Pontotoc (38), Prentiss (11), Tippah (10), Tishomingo (13) and Union (13).
North Mississippi total case counts:
Alcorn 179
Benton 80
Calhoun 270
Chickasaw 348
Clay 309
Itawamba 208
Lafayette 613
Lee 863
Marshall 392
Monroe 525
Oktibbeha 705
Pontotoc 533
Prentiss 203
Tippah 203
Tishomingo 178
Union 338