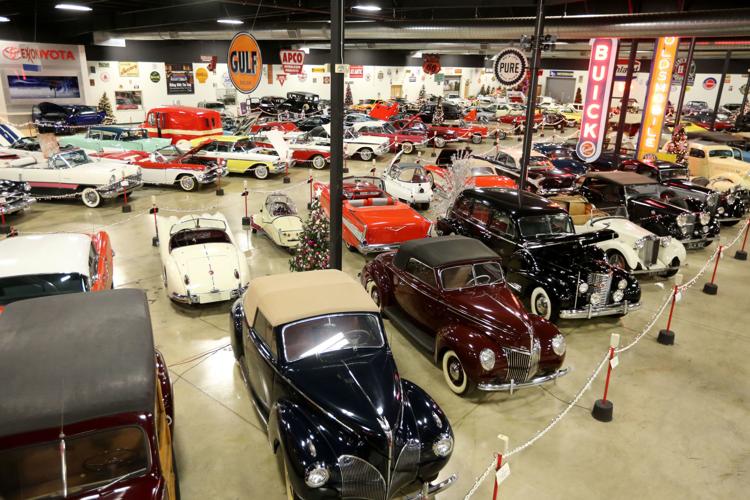 It took Frank Spain about 40 years to amass the 170-plus cars at the Tupelo Automobile Museum, but it will take only a couple of days for the collection to be dispersed to collectors and car aficionados around the world.
After a 16-year run, the museum closes on March 31, and an auction will be held April 25-27 with the contents of the facility – including signs and cars – sold off to benefit an educational foundation.
The car that spurred Spain's interest in collecting vintage and classic vehicles began with a 1938 MG.
"He restored it and it cost him more to restore it than to buy it," said his widow, Jane Spain. "It caused him to think, 'wait a minute, I enjoy cars but I need to be buying cars that will appreciate.'
"It wasn't about the money; it was about the reality of these cars need to be a little rarer. And he had a few other cars that were stored in Tupelo – a Model T pickup truck, a Pierce Arrow, a Rolls-Royce. He wanted to use them as parade cars."
Jane said the Model T truck was so beautifully restored that it motivated her husband to expand his collection.
"He wasn't so much about the memories," she said. "He was more about the technology and design. And he started like he did everything – he read profusely. The more he read – he subscribed to everything he possibly could – and he started developing a wish list. Once that wish list started, pretty much that was the end of, 'Oh, we'll go get a car here and there. And once you get on an auction list, you get every auction notice there is."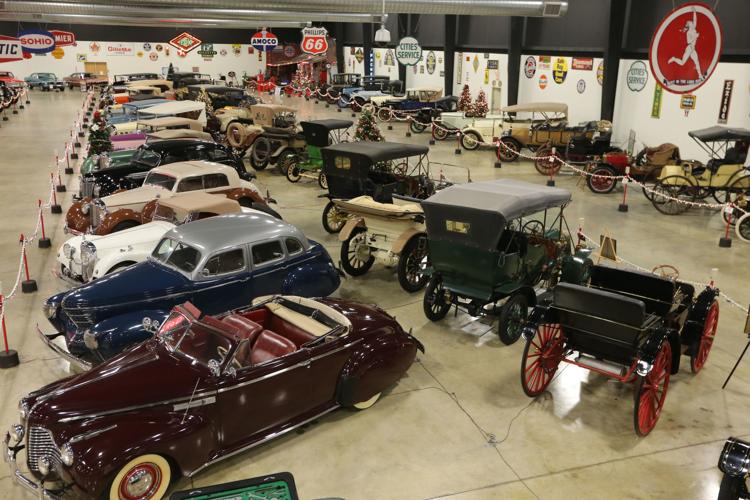 Auction finds
For nearly 40 years, Frank and Jane, as well as former museum curator Max Berryhill, attended more than their fair share of auctions across North America.
"Those trips were great fun because part of them were about Frank and his cars, but part of them was the experience of seeing another part of the country we'd never seen," Jane said.
"It is the chase. To me it was the chase. And for Frank, it was the chase, but hopefully you'd end up with the car at the end of the chase," she said.
As his collection grew, Frank realized he had to do something with the cars he'd collected.
The cars were dispersed in buildings around Tupelo and elsewhere, but Frank was ready to put them in a centralized location.
"At the time he owned some property across the street from where we are now and some old warehouses," Jane said. "He bought an old manufacturing company and started reworking the building to hold his cars.
"Ultimately, there was an opportunity to help shape economic development in downtown Tupelo."
Frank, at the request of the city, formed Family Entertainment LLC, enabling the company to apply for a newly developed state program that called for $10 million in private investment for a tourist-related facility. In return, up to 35 percent of that investment would be eligible for a rebate.
It was a tool to recruit other businesses nearby, and indeed, the Hilton Garden Inn and BancorpSouth Conference Center opened in 2006. That was followed by the opening of the Fairpark at Main building, anchored by restaurants Park Heights and Fairpark Grill.
The Tupelo City Council later bought the Tupelo Automobile Museum building, paying $3.25 million of the museum's construction cost of more than $3.3 million. Jane agreed to repay the $3.25 million debt incurred by her husband when he built his complex on eight acres of city property. The nonprofit foundation he established leases it for twice-annual payments.
The payment closed an agreement Tupelo Redevelopment Authority made to purchase the facility from funds raised in a 1999 $22.67 bond issue to redevelop Fairpark, and lease it back to the museum nonprofit group.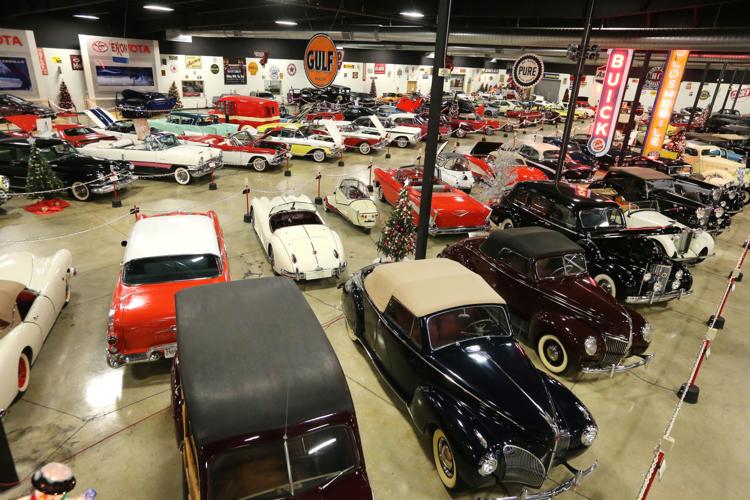 State auto museum
The Tupelo Automobile Museum opened on Dec. 7, 2002, and in the spring of 2003, it was officially designated the State of Mississippi automobile museum.
The cars are displayed in chronological order, each marked with a sign giving more information about each.
Stephen Mancuso, the director of collections at the museum, has been documenting the cars, organizing the files and matching the paperwork for each one as the auction draws nearer.
"We have a tremendous amount of cars that, if you're an everyday guy, you don't know what some of them are, you never heard of some of these car companies," Mancuso said. "Frank picked up not only really interesting cars but high-quality interesting cars."
Mancuso said Frank "had a phenomenal eye for them. And the more professionals I bring in here that really understand the level of cars we're dealing with are blown away. For example, we have a Winton here that is the only one that exists in that year. It's all original and was a rare production even for that year."
The museum also has a Tucker, which was introduced in 1948. Only 51 were made. A movie in 1988 produced by Francis Ford Coppola, "Tucker: The Man and his Dream," told the story of Preston Tucker and his innovative automobile and how forces shut down the company before it could sell any of the cars. Coppola himself is one of the few who own a Tucker.
Spain in the 1990s bought what Mancuso calls a unique Tucker with its Cord transmission and an exterior color (beige) of which only five were painted that way.
"It was used at the Indianapolis Speed Trials and went around the race track," he said. "We have the promotional video that Tucker shot with our vehicle in it, which is pretty special. And the car is fully functional. It just needs a new battery and a light tuneup."
Mancuso said the Tucker, along with the rest of the collection, has the interest of car collectors and enthusiasts around the world, including some well-known celebrities.
The model at the museum is officially designated Tucker No. 1028, and when it goes up for auction, it will be a rare occurrence. How much it will sell for is unknown, but it should be quite a lot.
Tucker No. 1044 was sold at RM Sotheby's Auction in Arizona on Jan. 19, 2017, for more than $1.3 million. In Monterrey, California, on Aug. 15, 2014, Tucker No. 1036 was sold at RM Sotheby's Auction for more than $1.5 million. The highest price paid for one so far was $2.9 million for Tucker No. 1043 at the Barrett-Jackson Auction in Scottsdale, Arizona, on Jan. 21, 2012.
Bonhams, which is conducting the auction, estimates the value of the Tucker between $1.25 million and $2 million.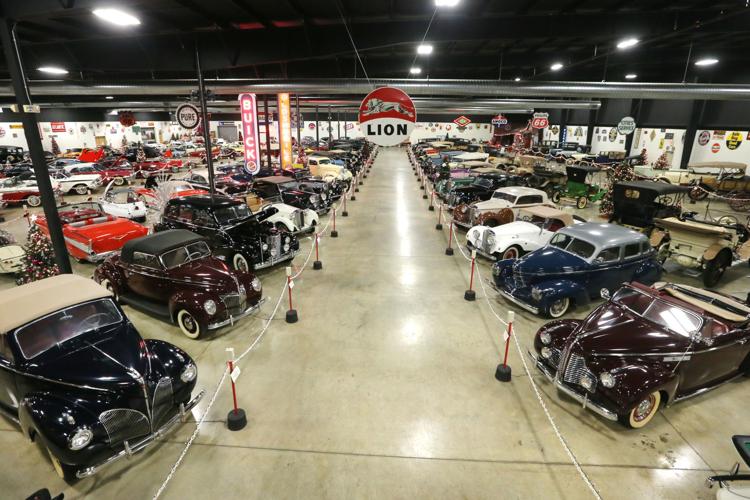 Frank's wish list
Even with the vast collection of cars, the Tupelo Automobile Museum wasn't quite complete. Frank had a wish list, which as mostly filled by the time he passed away in 2006.
A car that he wanted was a Ford Thunderbird. While he was able to get one lent to the museum for a short stay, he wasn't about to buy one for keeps.
The last car he bought was another British-made car, a 1933 Morgan Trike.
"By then, I was fairly familiar with cars on some level," Jane said with a laugh. "I thought, 'Wow, a Morgan; this is exciting!' He shows up with a three-wheel Morgan. I'm picturing this sleek sports car ... but it's basically a one-seater with three wheels."
Frank's favorite brand was Mercedes, and he drove one daily. It was a cream-on-cream 1964 Mercedes 300 SEC.
"He was very particular about his cars and took special care of them, especially his personal cars."
Frank liked to collect historic vehicles because people would not likely see them again, Jane said. Frank also had an affinity for British nameplates, like Lagonda and Alvis.
"I have a feeling we would have had few more had he had continued to have the opportunity to go collect,"Jane said with smile.