TUPELO • Fifty years ago in Greenwich, New York, a group of LGBT bar attendees turned into activists as they decided to fight back against police harassment. Those initial Stonewall riots on June 28, 1969 sparked the gay rights movement, and Pride movements sprang up across the country.
To mark that anniversary, three groups of north Mississippi LGBT activists spoke recently about the challenges they have encountered while navigating a space influenced both by the history of Stonewall and their own state's history.
"(Like Stonewall), the LGBTQ+ community in Mississippi is also refusing to be silenced and claiming their space," said Jaime Harker, director at Sarah Isom Center for Women and Gender Studies at the University of Mississippi.
Oxford Pride
The present history of pride in north Mississippi starts in Oxford in May 2016 when Matt Kessler and other students from the University of Mississippi approached the Sarah Isom Center about organizing a pride parade. For all but one organizer, this was the first pride parade they had even attended, Harker said.
Oxford Pride faced another challenge besides inexperience and a short timeline. They were organizing under the shadow of HB 1523, a bill signed on April 5, 2016 that allowed businesses to withhold services from LGBTQ people on the basis of religious beliefs. While the parade was not organized to protest the bill, Harker said it did cause many in the community to show up to prove the bill didn't represent their values.
Oxford Pride celebrated its fourth year this past April 28 to May 5. In the time it has been operating, there has been a shift in landscape.
"We've seen a slight but steady growth in the parade each year including groups and individuals, but the biggest growth seems to be with the rise of prides in North Mississippi," said Kevin Cozart, the operations coordinator for the Sarah Isom Center.
Starkville Pride
Starkville Pride was the second major Pride in north Mississippi. Unlike Oxford, it did result in controversy. When Bailey McDaniel, a then-student at Mississippi State University, applied for a permit for the city's first pride parade on Feb. 20, 2018, the Starkville Board of Alderman stuck it down in a 4-3 vote.
For 2019 Starkville Pride Board members Mike Breazeale, Sam Calvert, Grey Garris and Patty Lathan, it was a move that shocked them, as the general belief was that a college town would be more open and people who may oppose LGBT identities wouldn't repress their rights. McDaniel and Emily Turner followed up the denial by filing a lawsuit against the city.
The board of alderman's decision made national news; however, it was also a decision that would bring out surprise allies such as the Pop Porium, whose owner, Rosa Dalomba, argued that denying the permit hurt business.
Two weeks later, the board of alderman voted to allow the permit, but by then the original rejection gave a publicity boost. Bigger venues were booked to accommodate extra people. As Starkville Pride celebrated a second Pride on March 29 and March 30, there were questions of how the turnout would be a second time.
"It went better than we were anticipating. We weren't sure what to expect because there wasn't any controversy associated with this year's parade," said Lathan.
Breazeale said the initial decision fueled his desire to get more involved. Starkville Pride started out student-led, but other LGBT professionals in Starkville decided to become involved once it gained controversy, Breazeale said. Starkville Pride now has a Pride board that includes both Mississippi State students and local professionals to ensure the event continues and remains a community event.
"(Pride parades) remind those people who feel alone that they're not, so to me that's the biggest benefit of Pride and the main reason I think most of us are involved in making sure it continues," Breazeale said.
Tupelo Pride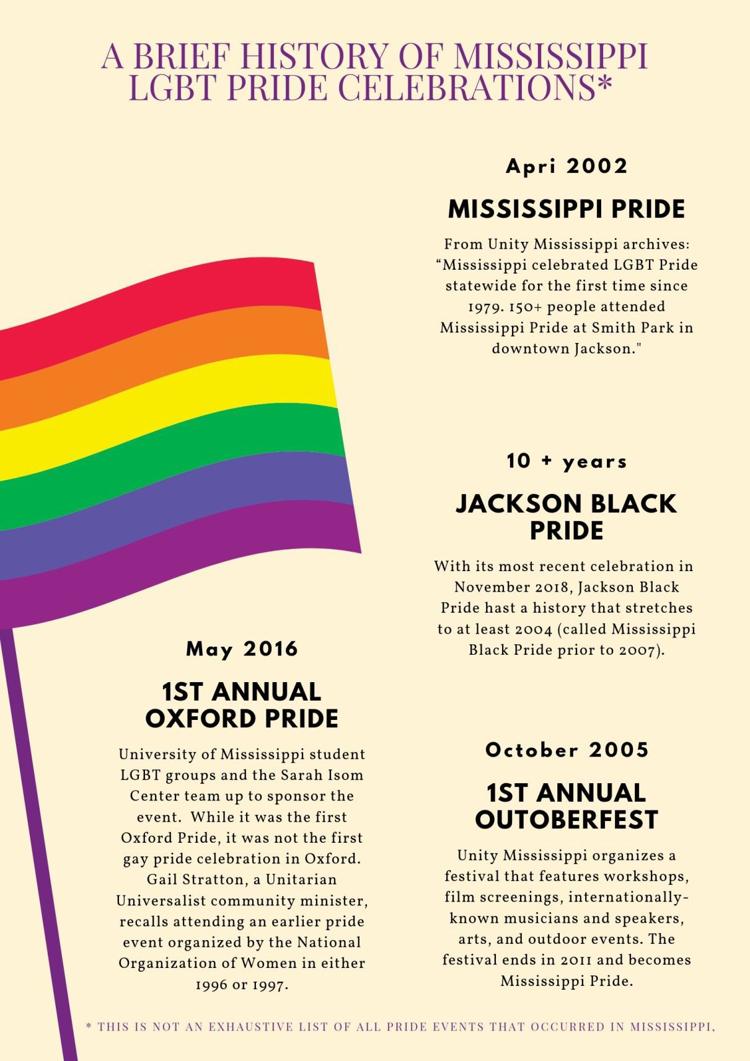 When Melanie Deas organized the first Tupelo Pride in October 2018, she did it with Starkville's recent backlash in mind.
"In the wake of the situation in Starkville, I think people were a little more excited and a little more determined to have a simple, calm celebratory event," Deas said.
The idea for Tupelo Pride came almost by accident. Deas was already meeting with the City Council for a separate subject when she met with Mayor Jason Shelton about what she was going to present. As it was around the time of the first Starkville event, Deas found herself talking to the mayor about why there was never a pride in Tupelo, and was met with a simple answer: no one had applied for a permit for it.
"For years, people had been complaining that nothing had happened. I think everyone was convinced that it was a conspiracy or someone was really against it when really all it was is that no one had taken the initiative," Deas said.
Deas reached out to PFLAG Tupelo president Amanda Daniels to get PFLAG involved, and applied for a permit in October so that Tupelo Pride would coincide with LGBT History Month. The first event was planned quickly and quietly last year to avoid attracting protestors, but Deas said she is preparing for a bigger Tupelo Pride this year. One of the big changes has been creating a Tupelo Pride board, of which Linn Wotring is president. Planning for 2019 Tupelo Pride began almost immediately after the first one was over, and Deas is looking to up this year's event with more activities.
Tupelo Pride is scheduled for Oct. 12 this year. The pride planners will be hosting a planning meeting Wednesday, June 26 at 6 p.m. in the Link Centre. The meeting will be open to the public.
"We're deliberately spreading the word. We just wanted to get the first one in the books and move on to planning year two to prove we could do it and to prove people would come," Deas said.
Impact of Stonewall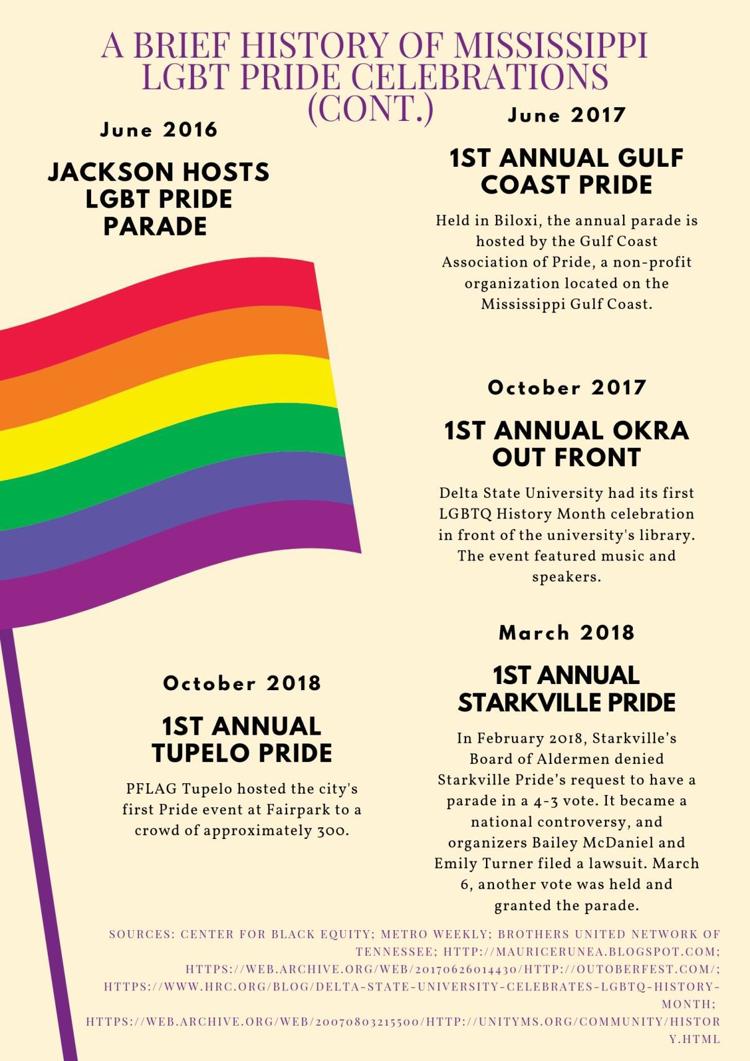 With this year marking five decades since Stonewall, all three prides remembered how Stonewall impacts their current celebrations.
"Every Pride celebration in the country is in commemoration of that first rebellion at the Stonewall Inn," Harker said.
Oxford Pride's theme this year was "Party Like It's 1969: 50 Years of Pride," and the student group OutGrad led the 2019 parade in special T-shirts that said, "Stonewall was a riot – not a parade."
For Wotring, Stonewall is a reminder of the progress that still needs to be made.
"I'd like to say that we're much better than Stonewall, but when I look at Orlando, I don't know that we've gotten that far," Wotring said.
Starkville Pride board member Sam Calvert said Stonewall is a reminder that Pride was originally created to gain rights and that even now, LGBT people are fighting for the same thing. For Breazeale, Stonewall is a reminder that the fight for LGBT rights has a long history.
"As difficult as it was to fight the board of alderman to make our event happen, it pales in comparison to the work those original LGBT members did to make today possible for us," Breazeale said.