TUPELO • Northeast Mississippi's vaccination rates are largely lagging behind the state average as Mississippi's overall vaccination efforts lose momentum.
The number of COVID-19 vaccine doses administered in Mississippi has dropped more than 19% for three consecutive weeks, with the largest drop of 25% last week — down from 74,383 doses for April 18-24 to 55,638 doses for April 25-May 1.

The first significant drop, a decrease of 20% from April 4-10 to April 11-17,  was the first time since mid-February the state dropped below 100,000 doses administered when there weren't widespread vaccination site closures.
Mississippi experienced back-to-back winter storms that caused closures during the week ending Feb. 20, and the threat of severe weather caused closures during the week ending March 20.
As of 8 a.m. on May 6, 26% of Mississippians are fully vaccinated against COVID-19 while 30% have received at least one dose of the vaccine, according to the Mississippi State Department of Health (MSDH).
Lagging vaccination rates in Northeast Mississippi
Of the Northeast Mississippi Daily Journal's 16-county coverage area, only four counties — Chickasaw (26%), Lafayette (37%), Monroe (27%) and Oktibbeha (31%) — have met or surpassed the state's average of 26% of residents fully vaccinated.
The county with the lowest percentage of residents fully vaccinated is Marshall with only 20%, followed by Alcorn, Benton, Itawamba and Tippah counties, which are all at 21%.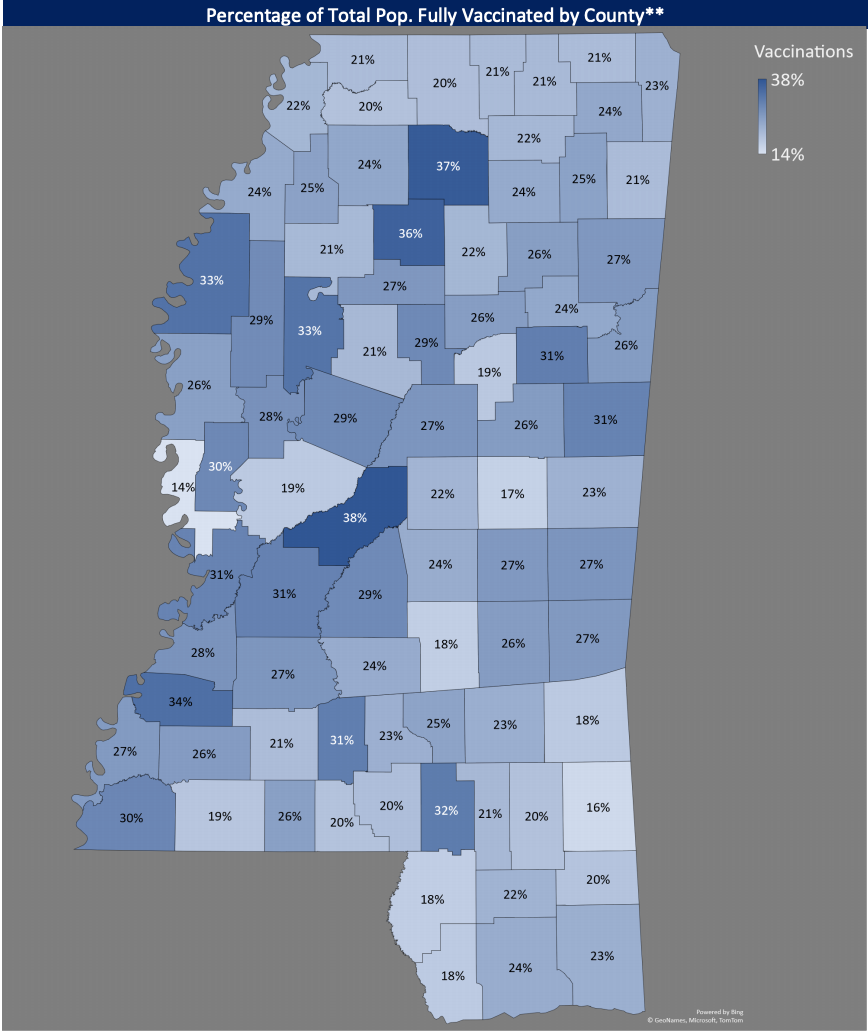 Thousands of open vaccination appointments were available at MSDH sites on Thursday afternoon — approximately 1,500 between Lafayette County's drive-thru and walk-in sites, 2,700 at Lee County's drive-thru site and 2,800 at Oktibbeha's drive-thru site.
State Health Officer Dr. Thomas Dobbs said during a virtual press conference on April 28, that the drop in Mississippi's vaccination rate is not entirely unexpected, adding that he'd rather not see the numbers trailing off because MSDH still sees phenomenal value in being vaccinated.
"For the vast majority of Mississippians, it's not an access issue," Dobbs said. "There are more access points than there ever have been."
But for those that do still face access issues, MSDH has established a health equity team to address rural and underserved areas of the state and bring the vaccine to them.
"We're going to hit hard where we can," Dobbs said. "We just really want all Mississippians to get in the boat and pull along with us in the same direction. It's not time to give up."