TUPELO • Revised reform efforts aim to strengthen Mississippi's public defense system, which is widely considered overburdened, haphazard and ineffective.
A key figure involved in these efforts said the need is urgent. The Mississippi Legislature has not acted on the recommendations of a task force it created in 2015, despite warnings that the Magnolia State's criminal defense system for the poor poses a constitutional crisis.
"We've got to do something to enhance indigent defense and the delivery system of indigent defense," said Andre de Gruy, who is director of the Office of State Public Defender
The State Public Defender's office handles representation in all death-penalty eligible cases for the "indigent" – defendants who cannot afford an attorney. The office also handles felony indigent appeals. All other public defense occurs at the local level.
Reformers are crafting and preparing legislation that would allow the state Office of State Public Defender to provide the funding to support local public defender offices that serve coalitions of counties and are staffed by full-time defense attorneys.
Efforts led by de Gruy and others come even as much of the Mississippi Legislature's attempts to reform the state's criminal justice system remain focused on easing the return of the imprisoned back into society. Several legislative committees focused on criminal justice and prisons convened a joint hearing last month to discuss reentry and parole.
But Cliff Johnson, director of the MacArthur Center for Justice at the University of Mississippi Law School, believes this approach must be balanced with attention to the mechanisms by which the inmates held inside Mississippi's prisons got there in the first place.
"While I think re-entry is important I continue to plead with people to talk about pre-entry," Johnson said.
Warnings about public defense not new
Both the U.S. and Mississippi constitutions guarantee that felony criminal defendants must receive legal counsel, even if the state must pay for it.
"No matter your political persuasion, I think the notion of providing adequate counsel and a fair process is something we can all agree is a cornerstone commitment of our society," Johnson said.
And that cornerstone is shaky in the Magnolia State.
According to a report released by a Legislature-created public defense task force in 2018, Mississippi suffers from a patchwork public defense system in which quality of representation varies widely, public defenders are inappropriately beholden to judges, and the state can't be certain it is fulfilling its constitutional obligations.
Making headway toward solutions has been slow going.
A 2019 bill introduced in that year's legislative session mirrored the recommendations of the task force. It would have created and funded a network of district public defender offices and imposed standards on them. The bill died in committee.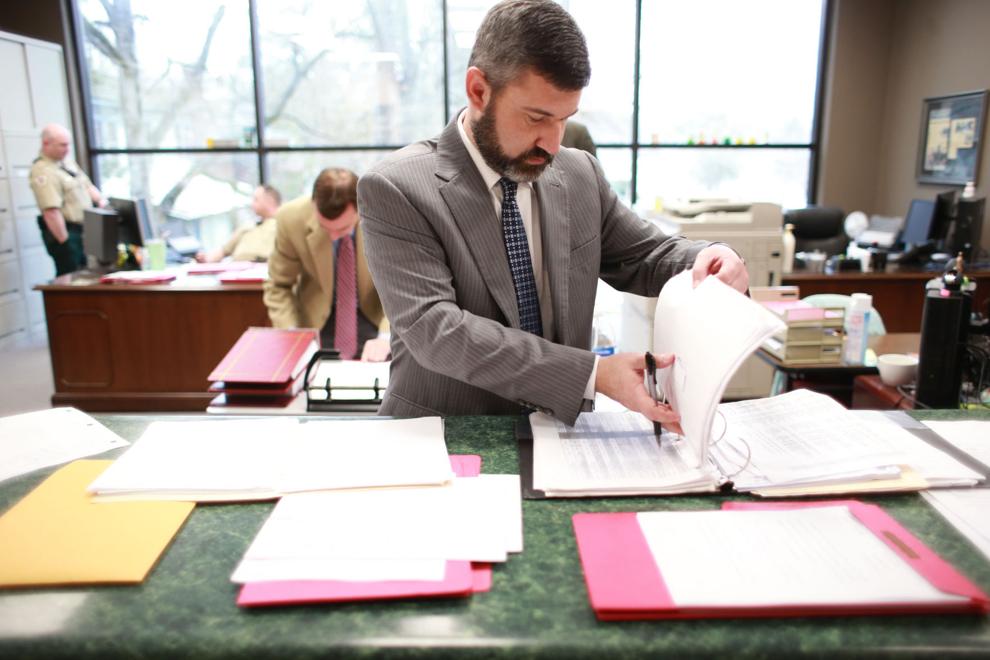 With no legislative action, most poor Mississippians accused of crimes continue to face the prospect of going to court aided by a part-time public defender arguing against better-staffed and better-funded district attorneys.
"There is no fair trial without equality of arms," Johnson said.
Proposal focused on pilot sites
Rather than keep pushing the 2018 recommendations, de Gruy is now crafting a more limited proposal that he believes will still be effective.
"This model is really the counties up, as opposed to the state down," de Gruy told the Daily Journal. "That's the biggest difference."
A current draft proposal calls for pilot sites in Lamar, Marion and Pearl River counties, and in Clay, Lowndes and Oktibbeha counties.
According to the draft proposal, the state public defender's office "would be a grant making entity subsidizing local programs and service providers to help raise the level of services based on objective, evidence-based standards and recognized best-practices."
Despite roadblocks in the past and an admission that "there's a hard road ahead," optimism exists.
"I feel pretty good about it right now, in some form, because we've got a lot of support now from both House and Senate judiciary chairs," de Gruy said.