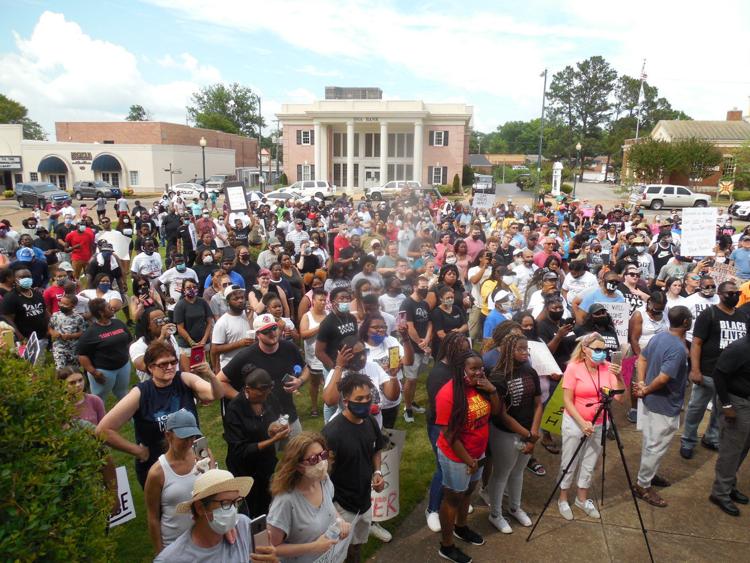 Those eight minutes and 46 seconds when George Floyd was killed in Minneapolis police custody ignited history. As all 50 states protested for justice from police brutality and systemic racism, small towns in Northeast Mississippi made sure to add their voices in stating that Black Lives Matter.
Booneville, Corinth, New Albany, Pontotoc and Ripley held protests honoring George Floyd and encouraging unity in their communities from June 5 to June 7, with Corinth hosting two separate days to protest. The six total protests drew over 1,000 attendees. Whether they gathered to pray, march, protest, rally or stand in solidarity, the goal remained the same: encouraging the community to come together in support of Black lives.
"Just because we are a small town amongst many, many cities across the United States, our voice matters. We were able to be a piece of the puzzle . . . in the grand scheme of things," said Penelope Blissett, board member for New Albany's Peaceful March for Solidarity.
Importance of organizing
The head organizers of all six rallies were mostly hometown natives or longtime residents. For Ripley-born Nia Colom, organizer of an "I Can't Breathe" rally on June 7, organizing in Mississippi still has unknowns. She said Mississippi is still known for racism, segregation and social injustices even today.
"People are still not treated equally in Mississippi. Mississippi falls at the bottom of everything, and so to bring white people and black people together in unity and in peace and in harmony is incredible," Colom said. "It makes me hopeful that somehow, someway, we can find change. We can start moving forward and bring forth change in Mississippi, in our nation, in our world."
Stephen Bennett, a member of the Board of Solidarity March in Union County, said June 7's Peaceful March for Solidarity in New Albany and all the protests that occurred in Northeast Mississippi that weekend represented a chance for Mississippi to be part of something good, wholesome and right to combat a history of slavery and poor race relations through the decades.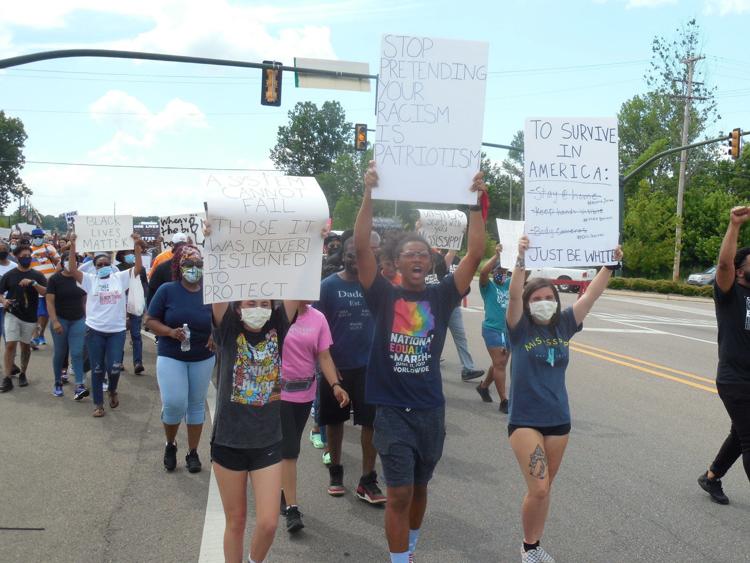 "Together, we can spread this to the whole state and let the whole state see that those of us in Northeast Mississippi are serious about true racial justice," Bennett said.
Eighteen-year-old Rashaan White, founder of Teenagers Against Violence in Pontotoc, was surprised by the support her June 6 rally received.
"Because Pontotoc is a conservative city, I wasn't really sure if a lot of people would be able to come out and that we would have people supporting it, but it meant a lot to me to see all those people come out and speak out, especially with the Mayor and the police station on our side, as well," White said.
For many, such as the StandWithUs / WalkOnJohnst team of Corinth, it was their first time organizing a protest. Jade Moment, 30, from Corinth, organized StandWithUs / WalkOnJohnst with Karodius Cager, Artesia Perkins, Kashena Adams-Moraga and Anya Petty. Moment said she was inspired to act after watching the video of George Floyd's death.
"When he started calling out for his mom, that just took over my whole being, and I felt like I had to do something. I made a Facebook post asking the community why are we not doing something," Moment said. "It turned into us making a group about having a protest, and we just got the ball rolling."
She said while neither she or her two brothers have personally experienced police brutality, she has experienced racism growing up in town and wants it to be better than when she grew up.
"I want the town to be better because this is where I grew up and this is where I'm raising my black son, and I want him to be comfortable. I want him to be able to have his life and know that he's cared about," Moment said.
Personal connections
Organizing a protest was deeply personal for all organizers. Rochelle Jenkins, a coordinator for Booneville's "United in Prayer" rally, said the death of George Floyd stirred emotions in all races.
"America will never be the same after George Floyd died. It will never be the same," Jenkins said.
As the mother of three Black boys, with one lost in a car accident in 2014, Colom realized that George Floyd could have been someone close to her.
"When I saw George Floyd on the ground with the officer's knee in his neck, him dying, I realized at that point that could have been my brother, my uncle, my dad, my son, and so it was extremely personal for me. If we don't do something about this now, who's to say when it will happen again?" Colom said.
She said it was important to stand up and let the country know that "enough is enough."
"We're not going to take this," Colom said. "We're not just going to sit by and allow you to kill our black kings....it stops here."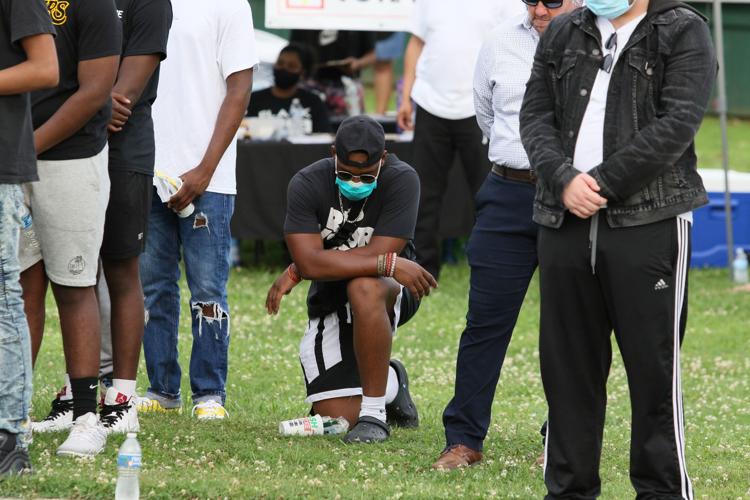 That connection as a mother would encourage Apprecia Geanes to help coordinate Ripley's protest. Along with a team consisting of area pastors such as Pastor Billy Geanes. Pastor Jeff Bohanna and Pastor Terry Smith, as well as Miriam Anderson, 15-year-old Kemya McDonald and Kela Johnson, the group hoped to inspire long-lasting change in the community. Geanes said she hopes people will continue asking questions and being present.
"Sunday was proof and evidence that together, we can do all things, so I hope they can take away Sunday that we're better together and we can make a change. We can definitely break down barriers, not just for our community but for the state as well," Geanes said.
Geanes said protesting locally was not only about the Black Lives Matter movement, but to also note inequalities in town with how minorities are less represented within city positions and in the legal system.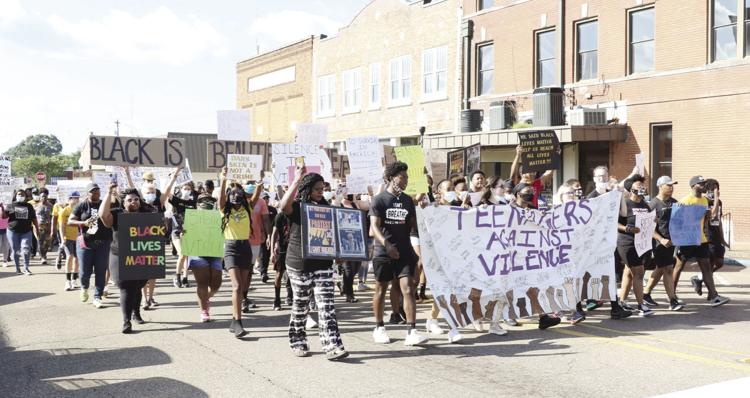 Organizing as a team effort
Organizers ranged from teenagers to elders old enough to remember segregation clearly. With the support of other teens such as Celeste Clayton, Olivia Mask, Jeridiane Ray, Isaac Williams, Racia White, Jeremiah Holmes and Brittany Stephens, and adults Dee Hill, Brittany Dilworth, Monica Chewe, and Latisha Standfield, White organized a peaceful protest that was attended by over 200 people.
"Seeing all those people come out and see chanting down the street, it really warms my heart and it showed me that the future is bright. Everybody is ready for a change and change is near," White said.
Booneville's United in Prayer rally was also spearheaded by younger adults, said coordinator Rochelle Jenkins. At 65, Jenkins still remembers growing up with prejudice towards Black people. She remembers Black people being spit on, being forced to go to the back when at the doctor's office or at restaurants, sitting in the top rows of movie theaters, unequal job opportunities and there being separate "Colored" and "White" water fountains and bathrooms, even at City Hall. She was inspired to organize because of the hurt she saw within the younger generation and said it is a privilege to be able to organize openly.
"Years ago, if you voiced your opinion, you would get killed, or beat, or accused, and now we are able to openly organize our opinion and be heard and see change made," Jenkins said.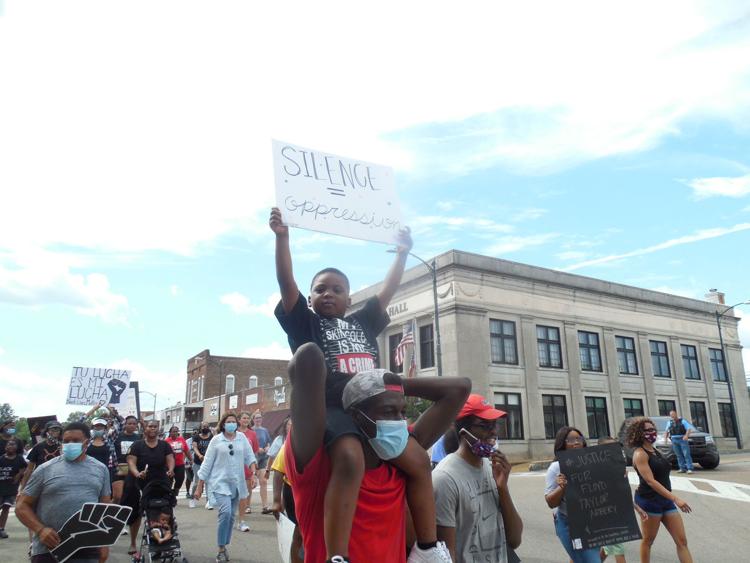 Attendees prayed for eight things: equality, justice, unity, peace, protection for protesters, police and property, God's grace, inward reflection of possible prejudice and change. Jenkins said about 125 people attended, including the mayor, city officials and the Sheriff's Department.
People of various races helped either with the planning or by attending. New Albany's June 7 Peaceful March for Solidarity included a Board of Solidarity March in Union County that consisted of over a dozen citizens of multiple generations, colors and backgrounds. Blissett, 47, saw over 300 people in attendance at their march and said she was "in awe" at seeing people come together on one accord.
"I'm hoping the march has ignited for many, many other opportunities of sit-down meetings to talk about how can we make our city the best city for all mankind," Blissett said.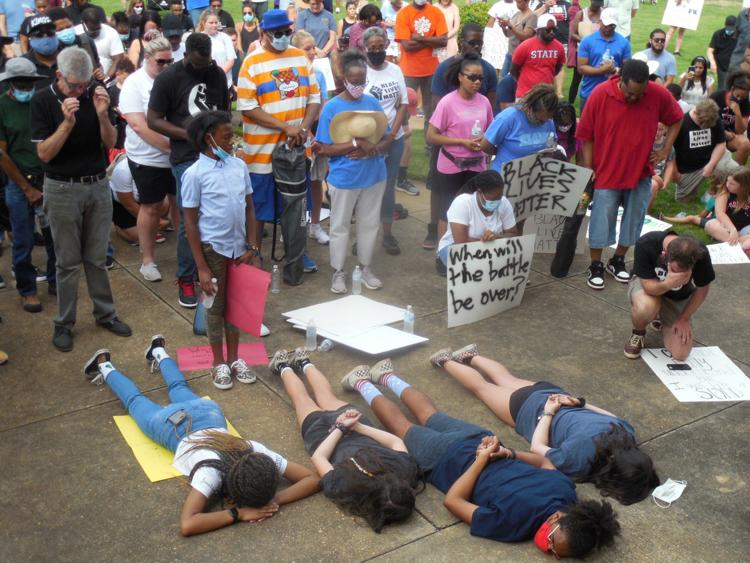 For Bennett, 58, the protest reminded him that as a white man, he "cannot fathom" what it is like to live in daily fear as a Black person and that he wants to do something to make a difference. He was emotional recalling four young people laying down in front of him with their hands clasped behind their backs in memory of what happened to George Floyd.
"My prayer and wish for them is that they never, ever have to go through that," Bennett said. "That will forever be in my memory."
Opposition
All six protests were peaceful, but that didn't stop some from opposing organizers' efforts. Moment said StandWithUs / WalkOnJohnst had to battle constant rumors, but said the support she saw at the protests outweighed everything.
"I saw a lot of faces that I was not expecting to see and I was speechless. When it was my time to introduce myself, I cried. I had to pass the mic on to the next person," Moment. "Seeing the community come together reassured me there are people from different walks of life that are on our side and want to see changes be made in our community."
The Pontotoc and Ripley rallies faced similar opposition. White recalls threats that if there was any violence, there would be shooting and said they were a little on edge because of it. Colom also knew people who didn't want the protest to occur, but said she "refuses to operate in a spirit of fear." However, it was the reaction from Ripley seniors that stuck with Colom. She remembers one older woman crying the entire time because it was "both beautiful and painful" to live long enough to see people protesting for justice. Colom feels there is a long road ahead when it comes to equality, but said it was liberating to be part of a national movement and know they had the same impact as larger cities on a smaller scale.
"People were united. People were motivated. We came together peacefully and in harmony," Colom said. "It makes me proud to be a part of this small town, to say that it's happened all over the world, but it also happened in little ol' Ripley, Mississippi," Colom said.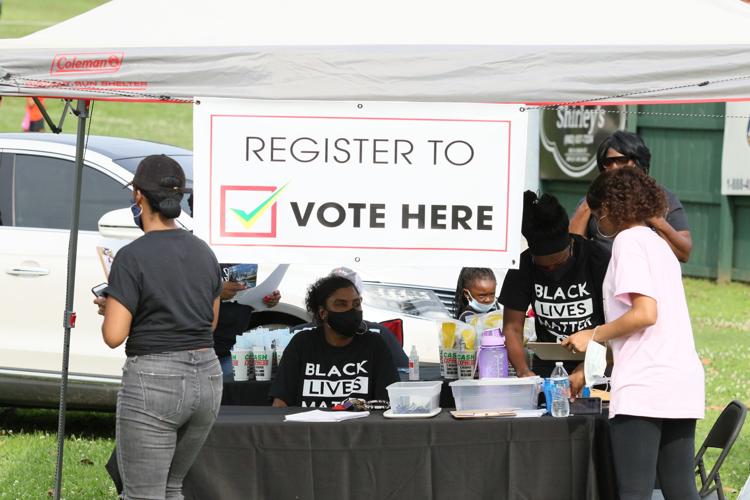 Future efforts
Many of the protests had voter registration booths to encourage civic action, and all planned on taking the energy from the protests to create longstanding change within their community.
Jenkins said she wants Booneville to continue the process that's started of unifying everyone in prayer and encourage people to continue praying and confronting issues head on. She said they will continue hosting community meetings and giving people the opportunity to vote. They will organize a block party to allow people to sign up to vote.
Moment put similar emphasis on voting to continue the momentum in Corinth.
"It's very important for us to vote because I believe our lives depend on us voting," Moment said.
She hopes to host more events where the community can sit down and have a dialogue, and wants to encourage more people of color to attend city meetings to see what they can do. She said ways that people can help is by calling out racism when they see it happening.
New Albany's Board of Solidarity March hopes to ignite other opportunities for sit down meetings. They plan to meet June 16 via a Zoom meeting to plan next steps and announce future plans of action, such as how to support the Black Minds Matter scholarship they have established and speaking with city leaders.
Geanes wants the momentum to continue. There is currently a Facebook page called I Can't Breathe Protest Ripley, MS to post upcoming meetings and ways people can be involved in the movement. Geanes said they are currently hosting Zoom calls to plan next steps, but hope to host town hall meetings, a 100-men march, participate and attend the March in Washington in August, host more voter registration rallies and set up meetings with electoral candidates. She hopes that people will listen to the message of Black Lives Matter and understand that "life is not fair for some."
"I believe everyone that's protesting around the globe all have good intents, that we all want to make this world a better place," Geanes said. "We're shedding light on Black Lives Matter but we want to make this world a better place for everyone to live equally."
In Pontotoc, White hopes that people who once said "All Lives Matter" or that they don't see color in opposition to Black Lives Matter have opened their eyes more. Teenagers Against Violence is planning a future bake sale to raise funds for Black Lives Matter, and White encourages people to sign petitions, donate, host peaceful protests and call police stations to try to get justice for victims of police brutality.
"I'm not alone. I'm not the only one who feels this way. There's a whole community that's ready for this change and ready to speak out, ready to stop seeing these innocent people losing their lives due to police brutality and racism. They're ready for equality," White said.