Administrators from three Northeast Mississippi schools visited the Toyota Motor Manufacturing Mississippi plant in Blue Springs on Thursday morning to observe and discuss the company's COVID-19 safety procedures.
Jerry Bailey, Senior Manager for Safety at Toyota Mississippi, showed superintendents and administrators from Tupelo, Monroe and North Tippah around the facility for a firsthand look at the company's Safe@Work COVID-19 pandemic preparedness and response plan.
School officials observed a $10,000 Hikvision thermal scanner, one of six at the plant. Team members are scanned as they enter the facility and anyone with a temperature of 99.9 degrees or higher is pulled aside and has his or her temperature checked with another thermometer. If the second reading is also high, the individual is isolated and evaluated by the medical team before a decision is made to either send them back to work or home to quarantine.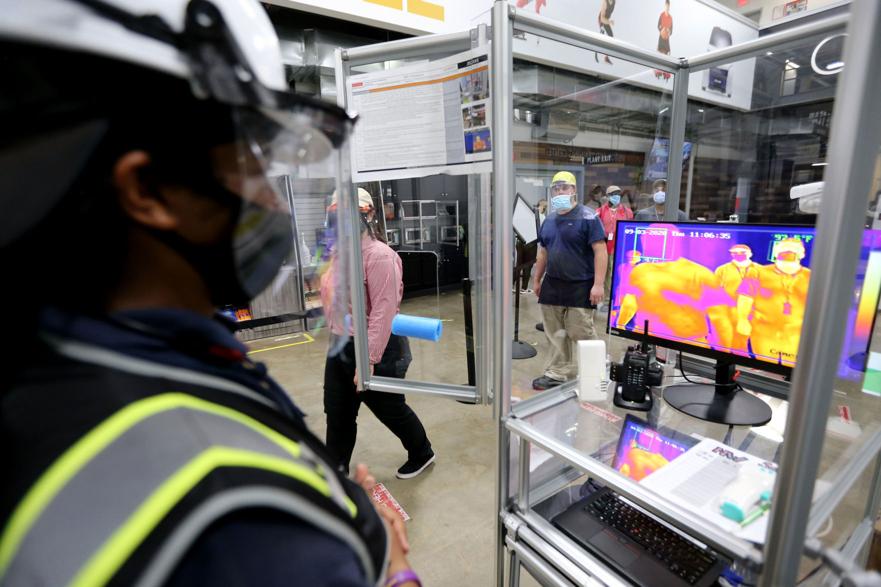 Toyota team members wear both masks and face shields while inside the plant. Hand sanitizer stations have been positioned throughout the building, and physical distancing is maintained throughout the facility, including on assembly lines.
School administrators saw plastic and plexiglass barriers set up in interview rooms, the cafeteria and administrative offices. These allow team members to see and hear each other while remaining physically separated.
The plant shut down in mid-March because of the pandemic and resumed production in early May. Bailey said it was a challenge making sure the company could provide a safe work environment for the 2,500 returning employees and prevent spread of the virus within the plant.
Protocols were developed to help team members who are sick or feeling unwell. Although there have been coronavirus cases at Toyota Mississippi, there have been no serious outbreaks.
Charles Laney, Executive Director of Operations for the Tupelo Public School District (TPSD), thanked Toyota for allowing them to view the facility and gather new ideas.
Although TPSD already has several similar safety measures in place, like thermal scanners and disinfectant practices, Laney said there are "several items we'll probably take back to the team, discuss those and implement them across the district."
"By actually viewing Toyota's facility today, it just reassures us that we're able to keep kids safe and be able to conduct school throughout the day," he said.
Toyota employs parents of students who attend Tupelo Schools and other districts throughout the region, and Laney said it was good to see the measures the manufacturer has implemented to keep those parents safe at work. All the positive cases TPSD has seen in its schools so far have come from community spread rather than spread within the schools.
"It's a two-part process keeping the parents safe and keeping the children safe throughout the day," Laney said. "When they do go home, they've been in a protective environment."
Besides allowing administrators to visit the plant, Toyota recently produced 12,500 face shields for distribution to six schools across three counties – Lee, Union and Pontotoc. Around 2,000 of them went to TPSD to "keep our teachers safe throughout the day," Laney said.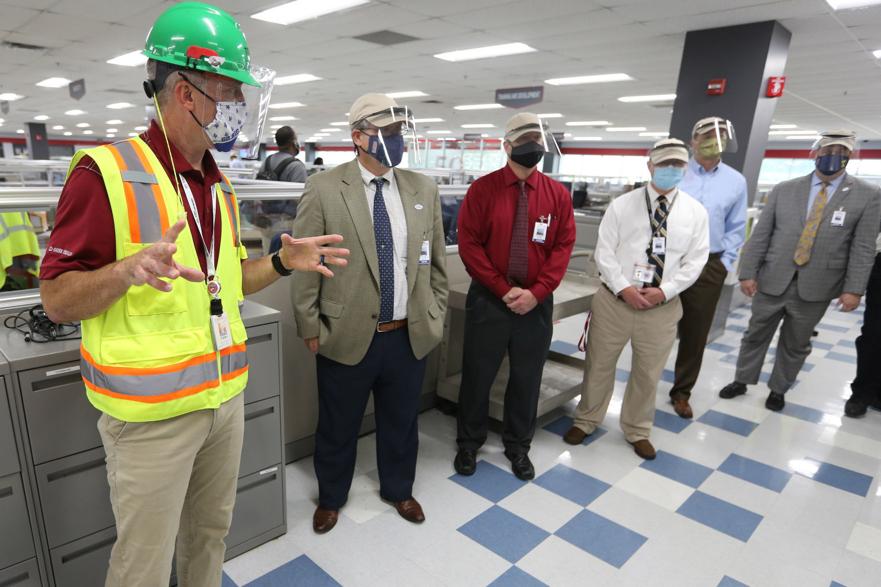 North Tippah School District Superintendent Scott Smith said the district has already implemented some safety procedures he saw on Thursday, but the visit opened his eyes to areas where further safety procedures could be implemented at schools in his district.
He said thermal imaging could help North Tippah students enter school buildings faster.
"Some of the things they're using, we need to incorporate more on our campuses," Smith said. "We're trying to improve our situation for our students."
Monroe County School District Superintendent Brian Jernigan said the strategies and protocols Toyota demonstrated on Thursday impressed him. He was particularly interested in using plastic and plexiglass barriers and thermal imaging for temperature checks as a possibility for Monroe County Schools.
Jernigan said there were "certainly some things that we had heard about and had thought about but never seen in action, but we got to see it today and it's encouraging for us."
Toyota is open to discussions with educators about how they can help local schools, Bailey said, whether that's through funding, materials or education.
"There's a lot we can provide the community," Bailey said. "We want to make sure we're there for them."