TUPELO • Tupelo High School will move to virtual instruction from Nov. 16 through 20 due to an increase in COVID-19 cases on campus, the district announced on Friday afternoon.
Tupelo High School is the largest high school in the state of Mississippi, with 1,934 students currently enrolled.
There were 18 positive student COVID-19 cases at Tupelo High between Nov. 7 and 13, resulting in 229 quarantined students, which is 11.8% of the total student population.
High school students will continue their classes through Canvas, the district's online learning management system, but will not attend on campus.
All other Tupelo Public School District schools will remain open.
Extracurricular activities have been canceled, and THS students are set to return in person on Monday, Nov. 30, after Thanksgiving break, which was already scheduled for the week of Nov. 23-27.
The virtual instruction announcement came shortly after TPSD announced that the Tupelo football team was forced to forfeit its playoff game against Warren Central scheduled for Friday night "due to an outbreak of COVID-19 cases" among players.
Positive student COVID-19 cases and quarantines increase drastically during the 13th week of school, more than doubling from the previous week.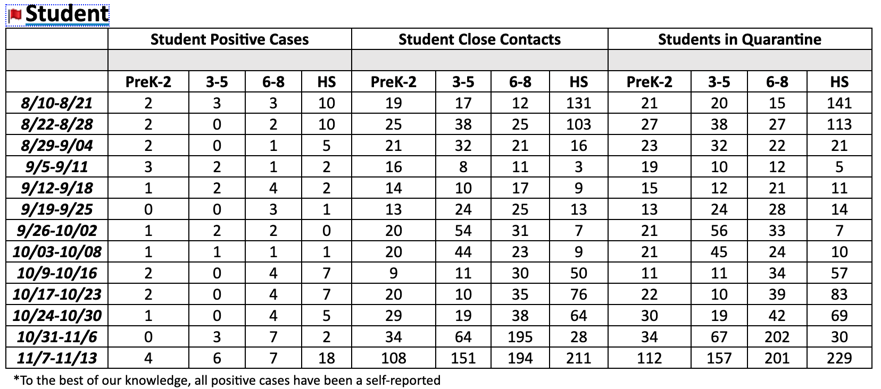 There were 35 student cases districtwide between Nov. 7 and 13, resulting in 699 students quarantined, as compared to the previous week where there were only 12 new cases and 333 quarantines.
The district's total enrollment is 6,990. That means 10% of students in the entire district are currently quarantined.
There were four cases at the Pre-K through second grade level, six at the third through fifth grade level, seven at the sixth through eighth grade level and 18 at the high school between Nov. 7 and 13.
TPSD reported 15 new COVID-19 cases among teachers in the district, including seven at the high school. A total of 54 teachers are quarantined.
Four additional support staff members tested positive for COVID-19 this week, resulting in 25 quarantines.