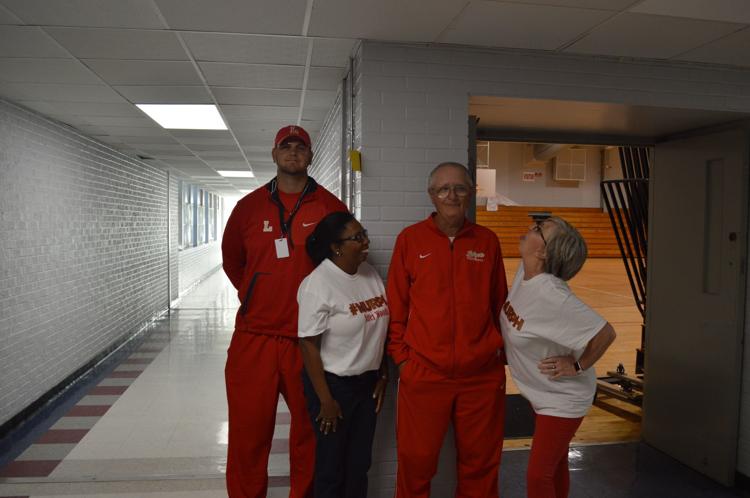 Friday, students at Lafayette honored their yearly tradition of donning red and gold clothes, big wire-rimmed glasses and a tucked in shirt to pay homage to the living legend himself, Murph.
James Lee Murphrey was 23 years old in 1974 when he stepped onto the campus of the Lafayette County School District as their newest addition to their coaching team.
When he was hired he moved into a trailer on campus. Back at that time, nearly all of the full-time coaching staff lived on campus.
"When you've got coaches on campus, teachers, whoever it is, you don't have to pay security," Murph said. "This is especially true at night. Years ago, I would lock up all the gates. Like during Halloween, nobody could get on campus. During the holidays and stuff, I would make sure everything stayed locked up. I would wake up early and let the janitors in. But we, don't really do that anymore."
Murph still resides on campus. He chooses to live there, saying it's a not a bad place to call home. Plus, he comes in handy every now and then.
"Last night they asked me to come out and turn the lights on at the football field for some kind of program," he said. "And then a teacher locked her keys in over at the upper ele, so went down there and opened the building up so she could get her car keys. When you're here on campus, you're on call all the time."
Murph is certified to teach science, drivers ed, heath and physical education. He graduated from the University of Mississippi's School of Education. Over the years, he's taught all of those classes and different combinations of them at both the middle and the high school. He sticks to the middle school these days.
"We were once all together," Murph said. "I taught all the high school physical science classes for about 12 years, but once they moved the high schoolers in the new building, I stayed at the middle. I was coaching middle school football and high school football at the time, so it was easier for me to be over there. I could get too and from the fieldhouse quicker. When you got junior high kids, you wanna keep your eyes on them."
Last year, a few teachers were looking for ways to drum up some school spirit with students, a way to get them excited to be part of the school. The idea for Murph Day came up, and people loved it. He's a living legend around the school, a permanent fixture for everyone who works there and all of the students who pass through every year.
They made shirts printed with a drawing of Murph's face with some of his different catch phrases printed below them. When the day finally came, the middle school filled with kids and faculty dressed in red. They wore their shirts tucked into their sweatpants and donned bulky, wire-rimmed glasses that mirrored Murph's own.
He loved it and thought the drawing of him was uncanny.
Mruph wears red. Always. It's a rule. It's why Murph Day works as a celebration of him as well as school spirit. Murph is perpetually clad in Lafayette Commodore colors. On Sunday's when he gets dressed up for church in Water Valley, a place where he's never missed a service, he wears a red tie.
"It don't make any difference with what color suit or sport coat I have on, I'm gonna have a red tie on," Murph said.