STARKVILLE — Will Rogers wasn't shy in looking for his favorite target Makai Polk in Mississippi State 49-9 loss to No. 5 Alabama (6-1) on Saturday night.
Rogers targeted Polk 13 times. That's nothing new.
Polk caught seven of those passes. That's a bit lower than usual, but against an Alabama defense riddled with five-star players, seven isn't too much of a regression.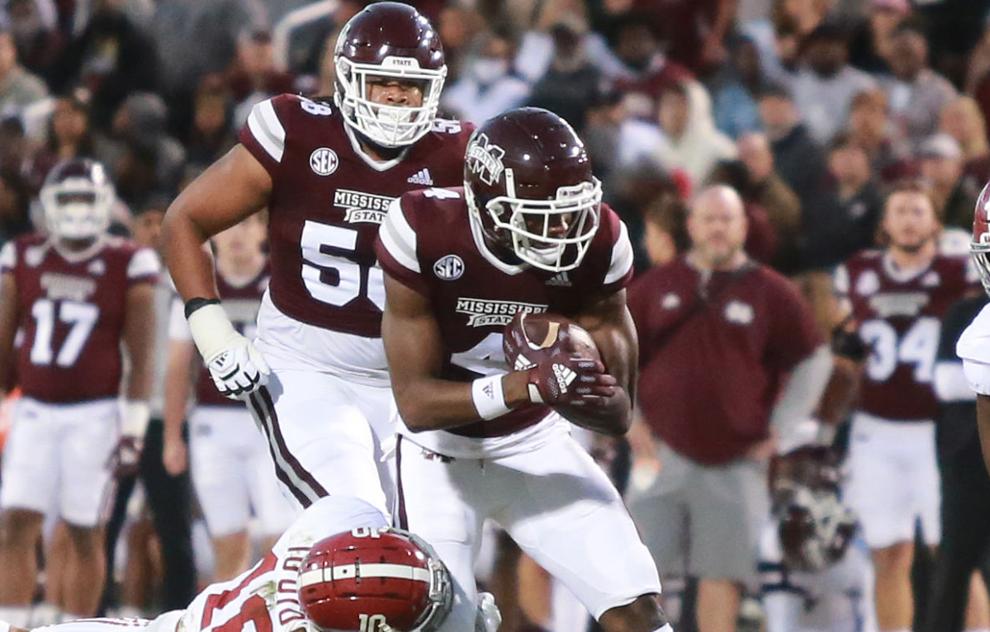 The telling number is Pro Football Focus' NFL passer rating when targeted. Polk's number was 33.8 — his lowest of the season by about 30 points and 10 points lower than the next lowest MSU receiver (Malik Heath).
The disconnect between Polk and Rogers was obvious. At times Rogers was throwing a vertical and Polk was cutting back. Other times Polk was running deep and Rogers was looking for a comeback route.
It's the type of miscommunication unexpected from a quarterback and his top receiver, particularly on a team's opening drive following a bye week.
"It was horrible communication is how I would evaluate what that was. That's a nice way to put it," Leach said when asked if the issue was receivers running option routes. "I'm sure that if you wrote it that way in the article that they'd appreciate it. I can't say that's 100 percent factually correct."
Much of that had to do with the opponent on the other side and MSU (3-3) not doing what head coach Mike Leach stressed on numerous occasions: don't overthink just because it's Alabama.
"I did not think our receivers were consistently where they were supposed to be. They figured, 'Oh, Alabama is really good and they're so superior, we'll just go ahead and invent a route.'
"Invent some route known only to you, not a chance in hell we'll find you. But just go ahead and invent it anyway. I mean, it's ridiculous."
Leach put some blame on Rogers — who recorded his worst passing grade of the season by nearly 30 points, according to PFF.
In a similar vein, Leach said Rogers tried to make too much happen at times. Leach put half the blame on Rogers for the seven sacks Alabama had along with blaming the offensive line for the other half.
The flaws at every level offensively went against everything Leach preached this week about focusing on MSU being the best version of itself rather than worrying about the national-title contender on the other side.
"We tried to do special things because we just thought they were too good," Leach said. "The trouble is, your best is always enough because that's all you've got. You go and manufacture new methods, techniques and all that because you're scared, well that's not a very good approach."