OXFORD – Given that he was only seven or eight years old at the time, Matt Corral didn't know the finer intricacies of the Southern Cal-Arizona State game he watched with his father. But whatever it was that took place between the Trojans and Sun Devils in 2006 or 2007, Corral knew he wanted to be part of it.
Corral, the record-setting Ole Miss junior quarterback and a 2021 preseason All-SEC selection, is from Southern California. His formative football years overlapped with the Trojans' run of success under head coach Pete Carroll in the 2000s.
Corral watched as USC churned out superstar after superstar. It was never his goal to play in that specific, prolific offense – he was a USC commit before committing to Florida and ultimately ending up at Ole Miss, though— but Corral's college football and NFL dreams began with Trojan football.
"I remember watching USC when they had (quarterback) John David Booty. It was SC vs. Arizona State," Corral said with a laugh. "I didn't really understand football. I remember my dad (saying), 'So when we get to this rectangle, they score, and when they get to that rectangle they score.'"
Carroll was the head man at USC during their dynasty, but the Trojans also had a number of high-profile offensive coordinators. Included among them from 2005-06 was none other than Lane Kiffin, now Corral's head coach at Ole Miss.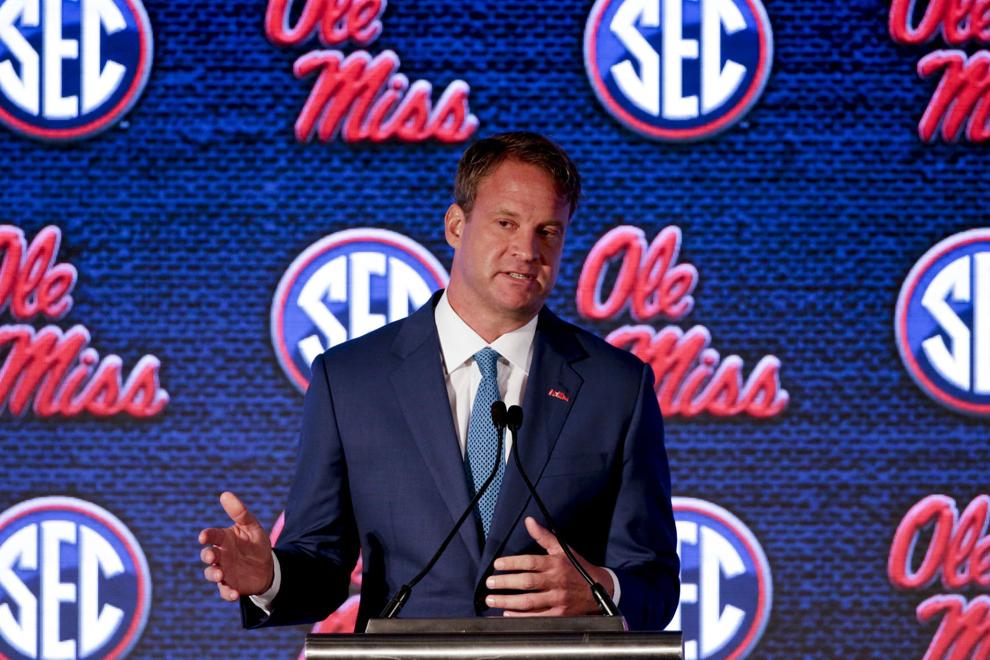 Kiffin later served as the Trojans' head coach from 2010-13. When he was in sixth or seventh grade, Corral remembers attending one of USC's football camps, known as Camp Kiffin. He still has a picture from it, posing with one of his childhood friends.
It's been about a decade since Corral attended Camp Kiffin. Both Corral and Kiffin have since had ups and downs. But fate brought them together once again in the unlikeliest of places, and a bond built through trust has been cemented in a way only quarterback guru and quarterback can truly grasp.
"It's funny how the universe works," Corral said.
After a rather pedestrian first two campaigns at Ole Miss, including a 2019 where he lost the starting job to John Rhys Plumlee, Corral flourished in 2020 under first-year head coach Kiffin. After being fired by USC, Kiffin was fresh off a stint as Alabama's offensive coordinator and as Florida Atlantic's head coach.
Kiffin has long been lauded for his offensive prowess, having worked with several Heisman Trophy winners and an impressive collection of NFL quarterbacks. Among his latest success stories were Alabama's Jalen Hurts and Derrick Henry — the former was named SEC Offensive Player of the Year as a true freshman while the latter won a Heisman Trophy.
Alabama wasn't exactly struggling before Kiffin came aboard, having won three national championships in five seasons under head coach Nick Saban. But Saban will be the first to acknowledge that Kiffin's morphing of Alabama's offense has led to the Crimson Tide's staying power.
It all started, ironically, with Hugh Freeze's Ole Miss teams, which were able to utilize run-pass options, quick screens and spread elements to upset Alabama on a few occasions. Never one to stagnate, Saban wanted his team to use that sort of offense. That fell on Kiffin.
"Lane really hadn't done much of that stuff either," Saban said. "So when he came in, I said, 'Look, we want to change this. You need to research this. You're smart. We can do this.' He actually did implement that, and was the first one to sort of change how we did things on offense."
Kiffin's latest revival project was Corral, who threw for 3,337 yards and 29 touchdowns last season while leading college football in total offense. Corral was far from perfect, however — he threw six of his 14 interceptions against Arkansas and another five against LSU.
But it was what Kiffin did during and after the Arkansas game that profoundly impacted Corral as much as any playcalling could. He let his quarterback keep playing despite disaster.
"I get asked all the time about, why didn't we pull him? I've just always believed that you're really slow to do that, because you get into pulling the quarterbacks and back and forth and their confidence is lost," Kiffin said. "I'm glad we stayed with him. He learned a lot from it. Sometimes you've got to have obstacles."
That trust in Corral, in letting him work through his problems, meant everything.
"(Kiffin) told me that there's a reason that he didn't pull me," Corral said. "He said he believed in me. He said, 'I believe what you can do. I believe in your ability. You're our guy moving forward.' Like, there's no issue with me. We're going to get it fixed. So just having that relationship with him helped a lot."
Kiffin says his star quarterback has evolved this offseason not only as a passer, but as a leader. Given his quarterback-building resume, Kiffin was recently asked if Corral reminded him of any former USC quarterbacks. Corral is his own unique beast, Kiffin said, citing a 'unique deep-ball arm.'
But again, it all circled back to Corral's growth as the face of the program.
"To be able to slow down with him, have a spring, I thought that he was very mature. I would say he grew more as a leader."
Expectations are sky-high for the Rebels and Corral, with Ole Miss' offense expected to once again be elite and the defense expected to make strides. Corral might also have an NFL decision to make next offseason, as his stock rises with every touchdown thrown. That's not something Corral is thinking about currently, though. He's focused on the here and the now and the opportunity at hand.
Still, Corral can't help but look back and laugh about Camp Kiffin. What were the odds he and Kiffin would be together again, in the SEC, nearly 2,000 miles from Los Angeles, a decade later?
"It's wild to see where everybody's at now and how they evolved," Corral said.