Best takeaway from Day 2: Matt Corral is going to kill it at @OleMissFB. SoCal swagger. Rich Rod as his OC. Rebs finally free to play for a bowl. #SECMD2019

— Dennis Dodd (@dennisdoddcbs) July 17, 2019
We're wrapping up our day here at The Wynfrey Hotel. If you missed any of today's coverage, you'll want to visit this page: https://buff.ly/2LoFmd8
The "ole ball coach" Steve Spurrier makes note that the last team he coached - the Orlando Apollos - were declared champions of the short-lived Alliance of American Football.
SEC legends Herschel Walker, Archie Manning and Steve Spurrier are now on the main stage. 
Manning answers the opening question, "the game is good." As he refers to the opportunities football has presented his family.
In case you've missed any of Parrish's content with Matt Luke today -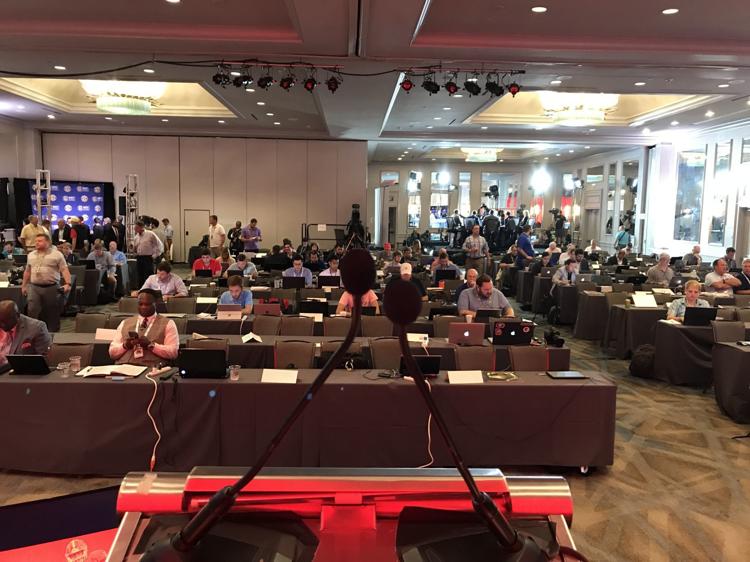 Here's a short video of what Matt Luke had to say at the main stage earlier: 
Matt Luke gives a "hotty toddy" and he's out. Now, Alex Givens, Matt Corral and Momo Sanogo are about to enter to meet with media in the main room.
Our guy Parrish Alford was able to get a question in to Matt Luke, which means a TV cameo. If you saw Parrish on the SEC Network, tweet at us!
Matt Luke is on the main stage and will be for about a half hour. Here was commissioner Greg Sankey introducing the 3rd head coach of the Rebels: 
Here are some notes from Parrish, following Matt Luke's visit with local media this morning, but prior to his visit to the main stage: https://buff.ly/2laGTrj
You can also follow along with the journey Matt Luke and Ole Miss' player reps are taking through the media jungle today via Ole Miss Football's official Twitter feed - @OleMissFB
Greg Sankey just introduced Kirby Smart, and playfully touted some of his highlights dating back to high school while taking a slight shot. 
Kirby Smart is going to take the podium in the main room in just a bit. And we're not far off from hearing from Matt Luke. 
Big day ahead at #SECMD19.

We'll hear from Kirby Smart, Matt Luke, Jeremy Pruitt, and Jimbo Fisher today.

First up, is Coordinator of Football Officials Steve Shaw. pic.twitter.com/gQ1iDT5alF

— Daily Journal Double Coverage (@DJDoubleCover) July 16, 2019
And if you missed anything from Dan Mullen or Greg Sankey on day one of SEC Media Days, here was the running thread from Parrish: https://buff.ly/2NYghaX
Day 2 is under way, and it's Ole Miss Day which means I won't be driving the bus here on the live thread all day. Later this morning John Luke McCord will take the wheel.
Ole Miss coach Matt Luke will be in the main media room (bring your winter clothing) at 10:20 this morning.
Luke is the second coach on the docket. He'll follow Georgia's Kirby Smart. Tennessee's Jeremy Pruitt and Texas A&M's Jimbo Fisher will visit in the afternoon.
Luke's full Media Days experience begins at 9 a.m., and his last session ends at 12:15. He probably won't hang around Birmingham long. Luke and other coaches are in Jackson tonight for the final Rebel Road Trip appearance. The group was in Memphis last night.
In a different twist this year the SEC is bringing in some high-profile former players and coaches -- way former -- to visit with media: Former Florida QB and long-time coach Steve Spurrier, former Georgia running back Herschel Walker and former Ole Miss quarterback Archie Manning. It's 4:15 in the main room for those guys.
You probably didn't have to twist Spurrier's arm to get here, and he'll be the most entertaining. It will be interesting to hear what Archie has to say.